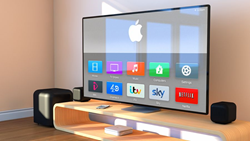 (PRWEB) March 24, 2016
Churchstreaming.tv, the leading streaming video service provider for churches, has announced that it is giving a free custom Apple TV Channel to all users of the ChurchStreaming.tv platform. Apple TV is just the most recent addition to their robust platform that includes the award winning ChurchStreamer box.
Churchstreaming.tv is a full-featured video streaming platform that offers unlimited live streaming to all devices along with video archiving and full website integration. Viewer mapping and statistics provide detailed data about the audience and the types of devices they are viewing from.
"We are very excited to add Apple TV to our lineup. We were the first church streaming company to offer Roku channels a few years ago and we have followed that trend by becoming the first one to offer Apple TV channels to our customers. We think this will really help churches reach new people as the new Apple TV has really been booming sales-wise," said Michael Smith, Director of Marketing , Churchstreaming.tv].
Traditionally, people would watch the stream on a computer. Then technology evolved and people began watching from their mobile devices. Now, many homes are also transitioning into a cable tv free environment. This has given rise to the popular streaming devices like Apple TV.
Because of the impact that online content is having on our society, churches are having to adjust to the trends and keep in touch with their congregation through technology. Staying on the cutting edge of this technology with companies like Churchstreaming.tv helps churches reach their congregation as well as establish a great online presence in the community.
"Churches have begun to realize that they can reach their home-bound disabled members as well as the online savvy teenagers with the same tool," said Smith. "As churches begin to use these tools they realize very quickly that it can make a dramatic impact on the church immediately."