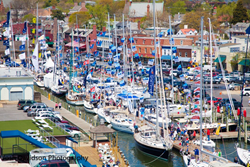 The best reasons to attend the Annapolis Spring Sailboat Show is the opportunity to shop from hundreds of regional marine retailers who offer boat show pricing, expertise, and boat show specials.
Annapolis, Maryland (PRWEB) March 24, 2016
For one weekend in April, the Chesapeake Bay's thriving marine industry will relocate to City Dock. From sailboats to sails, from St. Michael's to Main Street, the region's favorite maritime retailers and service providers exhibit at the Annapolis Spring Sailboat Show, April 22-24, 2016.
Recently named one of the most beautiful towns in America by Conde Nast, Annapolis has long been known as the sailing capital of the world, and is home to a thriving marine industry.
"There are many excellent reasons to attend April's sailboat show," said Paul Jacobs, president and general manager of the Annapolis Boat Shows. "It is a perfect destination if you are thinking of getting into sailing or if you are getting ready to purchase a boat. However, the best reasons to attend the Annapolis Spring Sailboat Show is the opportunity to shop from hundreds of local marine retailers who offer boat show pricing, expertise, and boat show specials," Jacobs added.
"It's all about getting out on the water in the springtime."
More than 100 sailboats will be on display in the water and on land, new and brokerage, including catamarans, monohulls, family cruisers, day sailors, and blue water sailboats. Because most sailboats are available for immediate sale, families can realize their dream of spending the summer on a new boat.
The sailboat show will have the latest in navigational equipment, high-tech electronics, inflatables, boating accessories, clothing, gear, and related services such as boating clubs, charter companies, insurance firms, and lending institutions.
For those wanting to experience the joy of sailing the First Sail Workshop is taught by expert instructors and is designed for the beginning sailor.
The Sunset Cruise Package, Saturday April 23rd, is an all-inclusive special day at the sailboat show. Participants will be wined and dined, enjoy dancing to a live band on the Catherine Marie during a three-hour sunset cruise. The VIP Package also includes on-site parking, admission to the show, a private buffet luncheon at the Federal House, and a canvas swag bag filled with goodies.
When it's time to take a break from boat shopping and new this year in Susan Campbell Park, patrons can relax and listen to continuous live music, win valuable prizes, enjoy water views, and try free regional food and drink tastings.
On April 23rd, regional high school sailing teams competing for a traveling cup will race in the 2nd Annual Annapolis Junior Keelboat Regatta. Award ceremony immediately following race
Cruisers University, April 21 - 24, 2016, offers dozens of courses taught by expert instructors on cruising and boat preparedness for sail and power cruisers. There is no better opportunity to learn all you will need to know before heading out on your adventure.
Set in the charming historic seaport of Annapolis, the 2016 show has something for everyone including valuable door prizes donated by sponsors and exhibitors.
"This isn't just any boat show. There are sailboat tours, sailing lessons, sunset cruises, historic tours, Naval Academy tours, Maryland crab cakes, blue crabs, raw bars, craft beers, painkillers, and breathtaking views," said Jacobs.
Annapolis Spring Sailboat Show
City Dock, Annapolis, Maryland
Friday, April 22, 2016 10:00am - 6:00pm
Saturday, April 23, 2016 10:00am - 6:00pm
Sunday, April 24, 2016 10:00am - 5:00pm
Adult - One Day $12
Adult - Two Day Combo $19
Children: 12 & under FREE
About the Annapolis Boat Shows: A premier event management company that produces four grand in-water boat shows. Each year 130,000 loyal attendees from around the world travel to the Chesapeake Bay to experience these nautical extravaganzas. According to a 2014 economic impact study, the Annapolis Boat Shows injects more than $112 million into the Annapolis area economy each year.
2016 Annapolis Boat Shows
Bay Bridge Boat Show April 15-17, 2016
Annapolis Spring Sailboat Show April 22-24, 2016
United States Sailboat Show October 6-10, 2016
United States Powerboat Show October 13-16, 2016
Cruisers University April 21-24, 2016 & October 10-13, 2016
#