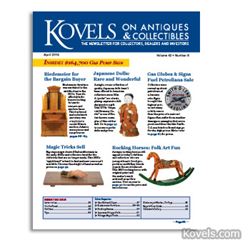 Cleveland, Ohio (PRWEB) April 01, 2016
A famous petroliana collection was auctioned in Pennsylvania and is featured in a sale report in Kovels on Antiques and Collectibles April 2016 newsletter. See pictures and prices of rare, quality gas pump globes and petroleum-related advertising signs that revved up collectors and fueled high prices, including a Musgo Gasoline sign that brought over $160,000.
Antique rocking horses appeal to both children and collectors. Nineteenth-century rocking horses with folk art details sold at an Ohio auction, where prices ranged from $240 for a pine rocking horse with a bench seat to $2,125 for a stylized rocking dinosaur. Priced examples are pictured in Kovels' April newsletter. Biedermeier furniture with clean lines and exotic veneers auctioned in Illinois. It's a bargain right now and makes an elegant addition to a modern home. A sampling of Biedermeier tables and seating pieces is pictured with descriptions and prices in Kovels' April issue.
Antique Japanese dolls were included in a California sale, and Kovels' April newsletter takes a look at "gosho" dolls. Made in the 1800s, gosho are chubby, expressive caricatures of gesso-covered carved wood with elaborate wigs and costumes and they command high prices. Learn more about gosho dolls and see examples that sold from $800 to $35,000. And magic tricks are—well—magic. Collectors hunt for old tricks that are no longer made and many were included in a Chicago auction. Kovels takes a look at some clever vintage examples, like a "Doctor Q Spirit Hand" and a set of tricky nesting alarm clocks.
Kovels goes "on the road" to explore three shows in South Florida. The popular illustrated Collector's Gallery answers readers' questions about a Babe Ruth postcard, a Chevy Bel Air clock and desk set, an English pottery basket made by Caughley or Worcester and a child's Jantzen swimsuit. April's Dictionary of Marks focuses on German tin toy makers. And more than 70 antiques and collectibles are listed in the Buyer's Price Guide.
Kovels on Antiques and Collectibles is available as a print subscription, or as a digital version that is part of the Kovels.com Premium subscription.
Terry Kovel is America's foremost authority on antiques and collectibles. She is the well-known columnist and author of more than 100 books on antiques and collecting. With her daughter, Kim Kovel, she co-authors the best-selling annual Kovels' Antiques and Collectibles Price Guide. The 2016 edition is now available at Kovelsonlinestore.com and local bookstores. They will discuss antiques and collectibles topics with accredited media. Photographs are available. Contact pr(at)kovels(dot)com.
About Kovels.com
Kovels.com, created by Terry Kovel and Kim Kovel, provides collectors and researchers with up-to-date and accurate information on antiques and collectibles. The company was founded in 1953 by Terry Kovel and her late husband, Ralph. Since then, Kovels' has written some of America's most popular books and articles about antiques, including the best-selling Kovels' Antiques and Collectibles Price Guide, now available in its 48th edition. The website, Kovels.com, online since 1998, offers more than a million free prices, and includes a free weekly email, "Kovels Komments." It gives readers a bird's-eye view of the market through the latest news, auction reports, a Marks Dictionary, readers' questions and answers and much more.
Contact Information:
Liz Lillis
216.752.2252
Pr(at)kovels(dot)com