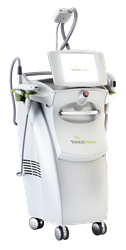 Toronto, Ontario (PRWEB) March 24, 2016
Venus Concept, a leading global medical device company, announced today that the Venus Versa™ system - a multi-application device intended to be used in aesthetic and cosmetic procedures - was approved by the U.S. Food and Drug Administration in March 2016 for the most in-demand clinical indications including skin rejuvenation, hair removal, facial wrinkles and rhytides, skin resurfacing, pigmented and vascular lesions, and acne vulgaris.
This clearance represents a key milestone in positioning Venus Versa™ as the leading multi-application device available in the marketplace, and it allows aesthetic professionals across the U.S. to effectively treat more than twenty common clinical indications in a safe and non-invasive manner.
"We are excited that Venus Versa is now available to physicians and aesthetic professionals looking for a cost-effective alternative to treat more than 20 clinical indications in one single platform," said Domenic Serafino, Chairman and Chief Executive Officer at Venus Concept. "This launch reinforces Venus Concept's commitment to developing technology that addresses the current needs of aesthetic professionals and their patients."
Venus Versa™ is the first and only platform to combine Intense Pulse Light, SmartPulse technology, Multi-Polar Radio Frequency, Pulsed Electro Magnetic Fields, and Nano-Fractional Radio Frequency via SmartScan technology to tackle some of the most in-demand aesthetic procedures requested by patients worldwide today.
About Venus Concept
Venus Concept has become a global medical device market leader by pairing best-in-class technology solutions with a unique business model designed to increase the profitability of aesthetic practices worldwide. With Venus Concept, aesthetic professionals take advantage of a comprehensive business package that includes: flexible payment terms, no credit checks or financing charges, satisfaction guarantee, unmatched customer service, patient marketing support, advanced clinical training, minimal disposable costs, industry-first upgrade path, superior warranty program and ongoing monthly support visits.