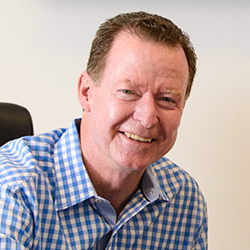 Roscoe is an excellent and welcome addition to the team!
New York/New Jersey (PRWEB) March 28, 2016
Anthony joins HamiltonBuhl after a lengthy and successful tenure as President of Califone, a provider of audio and multimedia solutions for education. During his twelve years at Califone, Anthony was instrumental in the company's record growth and diversification into markets beyond the educational and institutional sectors.
Prior to Califone, Anthony held leadership roles at pro audio manufacturer Tascam, as well as at JBL Professional and SKB. An experienced advertising executive, Anthony led the award-winning ad agency Reeds & Farris, and was named one of the "Top 100 People in Advertising" by Advertising Age magazine. Most recently, Anthony served as President at Renkus-Heinz, the legendary company at the forefront of loud speaker technology.
Anthony joins HamiltonBuhl during a period of expansion and growth for the company with continued surge in sales, and significant additions to its staff. Anthony's new position will see him spearheading company's continued growth, not only in educational and institutional sectors, but into markets beyond.
"With a deep knowledge of the educational sector, extensive expertise in business, manufacturing and sales, along with a powerful grasp of today's ever advancing technologies, Roscoe is an excellent and welcome addition to the team." said Shelly Goldstein.
"With its long track record, continued and consistent success, HamiltonBuhl has been on my radar for a long, long time," said Anthony, "I'm thrilled to be joining this high achieving organization, and look forward to helping the company to an even greater growth and success."
About HamiltonBuhl:
HamiltonBuhl (http://www.HamiltonBuhl.com) is the most recognized brand in AV equipment and electronics for education. From its humble beginnings in 1933 as Hamilton Electronics, to the 2011 merger with Buhl Industries, HamiltonBuhl has grown as an innovator delivering quality, durability and reliability. Always at the forefront, keeping a finger on the pulse of latest innovations, HamiltonBuhl products help facilitate and accelerate the learning process for students of all ages.