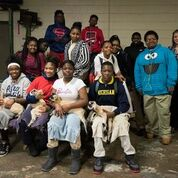 "The birth of quadruplet lambs is rare enough, doing it in urban Detroit...awesome!"
Detroit, Michigan (PRWEB) March 23, 2016
Pingree Farms is proud to announce the birth of quadruplets. A Columbia ewe gave birth to four lambs on March 6th, arriving over a three hour period starting at 3 a.m.
The birth of quadruplet lambs is rare. Only one in five-hundred births of this breed are quadruplets, and only in one in one-thousand births do all four survive. New farm manager Holly Glomski explains, "This is a very rare experience in agriculture for this particular breed of sheep. Typically they give birth to twins. Quads is really an overachievement."
Ms. Glomski joined Pingree Farms less than two months ago. Trained as an educator, her career has included farm management, animal husbandry, and teaching. "Being a farm manager at Pingree allows me to bring together all my passions in life - livestock, education, and agriculture. The kids learn how their food is produced and realize potential career pathways they have never been exposed to before."
When Martha, the momma ewe, became exhausted days after giving birth to the Pingree Quads, urgent care was provided at the Michigan State University College of Veterinary Medicine, where she was brought back to health. Momma Martha recently returned to the farm and is once again nursing the Pingree Quads.
Supplemental feedings are being provided daily at three hour intervals. Detroit middle school children participating in the Education Achievement Authorities (EAA) educational programs with Pingree Farms have been able to take part in the supplemental bottle feeding and care of the Pingree Quads.
Visit the Pingree Farms website for pictures and updates on the quadruplets, and vote for your choice of names for the quads! http://www.pingreefarms.org
PINGREE FARMS is a non-profit Urban Farming Initiative in the city of Detroit whose mission is to provide the children of Detroit with an opportunity to learn animal husbandry, gardening, nutrition, and the opportunity to participate in 4-H programs as sponsored by Michigan State University. Currently Pingree Farms holds classes three days a week for more than 45 total middle school students drawn from Detroit city schools operated by the Education Achievement Authority (EAA) http://www.pingreefarms.org
Contact:
Juana Woodson
juana(at)pingreefarms(dot)org
301 East Grixdale Road
Detroit, MI 48203
Phone: 313-427-5408
EDUCATION ACHIEVEMENT AUTHORITY: The Education Achievement Authority of Michigan (EAA) was created to turn around the academic performance of the state's lowest-achieving schools. We currently oversee 15 schools in Detroit, including nine elementary/middle schools (three of which are charter schools) and six high schools. In just 18 months, our students have made substantial academic progress in large part due to our unique learning structure that includes a longer school day and year, expert teaching staff and a blended, student-centered learning model. In fact, 59 percent of students achieved 1.5 or more years' growth in reading, and 58 percent of students achieved 1.5 or more years of growth in math after our first year.
MSU COLLEGE OF VETERINARY MEDICINE: The Large Animal Service at the MSU Veterinary Medical Center is open 24 hours a day, 7 days a week, 365 days a year. The service provides urgent evaluation and emergent treatment for all large animal species including horses, ruminants (cattle, sheep and goats), camelids (llamas and alpacas), and pigs. The hospital is equipped with full service triage facilities, radiography and ultrasonography, endoscopy/gastroscopy, arthroscopy, and 4 operating rooms with induction and recovery suites. Intensive care is provided by dedicated, compassionate specialists and nurses, including board certified criticalists, internists, surgeons, anesthetists, and radiologists. http://www.cvm.msu.edu/hospital
Contact:
Kristen Lare Flory
Director, Office of Marketing & Communications
MSU College of Veterinary Medicine
784 Wilson Rd., G155 VMC
East Lansing, MI 48824
(517) 355-5165