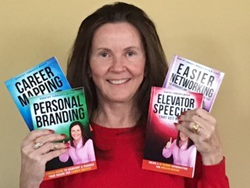 The truth is you can self-promote without being an obnoxious bragger. More people need to learn how.
Kansas City, KS (PRWEB) March 24, 2016
Business Leadership Coach, Dorothy Tannahill-Moran was awarded "Elite Expert Speaker Status" by FreeSpeakerBureau.com, an online platform which provides expert speakers to not-for-profits and professional associations. The Kansas City business leadership coach has authored four best-seller books and speaks to groups on a range of career-success topics including "How to use office politics and influence to advance your career – without playing dirty."
Known as the Introvert Whisperer, Dorothy specializes in providing leadership program training to ambitious professionals who are naturally quieter and more reserved than those that are typically picked for promotion. "Dorothy has uncommon insight on the human condition in the workplace," says FreeSpeakerBureau.com founder, Mandy Bass. "She is skilled in change management, human behavior, body language and real-world leadership program training."
Prior to becoming a career and business leadership coach, Tannahill-Moran had a successful twenty-one-year career at Intel where she was promoted ten times. Born an introvert and forged into a leader, Dorothy was often left to figure out how to "climb the ladder" on her own. She recognized that common advice didn't often work for her and crafted a path to success that she now shares with others.
Free Speaker Bureau offers an unprecedented national service through an online platform. The online matchmaking service connects groups to aspiring speakers, local experts, consultants and coaches who in most cases will not only speak to targeted groups for free, they are also trained to help drive attendance and improve audience engagement.
On the FreeSpeakerBureau.com platform, organizations can list all their events for the entire year. They are then matched with suitable local experts and speakers who fit the organization's criteria. Alternatively organizations can take their pick from a searchable database of local presenters. They can find detailed speaker profiles, speaking topics, photos, link to their websites, a rating / review system from previous presentations and, in some cases, a video sample of their work.
Unlike a typical speakers bureau, the website encourages meeting planners to contact the presenter directly because no money is being exchanged and no commissions are involved.
Ethics guidelines for members discourage speakers from giving a "hard sell" for their services or premiums.
Aside from business leadership coach and career experts, speakers listed on the site include medical professionals, business consultants, career coaches, marketing gurus, financial planners, parenting coaches, hypnotists and even a few magicians and comedians.