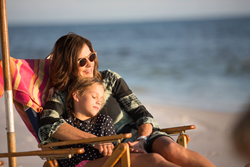 "As a Mom, I certainly agree that spending precious time with my family is the greatest gift I can receive for Mother's Day," said Newman-Dailey CEO Jeanne Dailey
Destin, FL (PRWEB) March 29, 2016
Mom doesn't want flowers for Mother's Day. According to a recent survey conducted online by Harris Poll on behalf of Ebates.com among 2,102 adults ages 18 and older in the top 10 U.S. markets, the top gifts on American moms' wish list is quality time with their family followed by gift cards to their favorite places. One of the most popular places for spending quality time together is at the beach. Newman-Dailey Resort Properties has been hosting families for their Destin beach vacation for more than 30 years. To help Moms get what they want for Mother's Day, Newman-Dailey Resort Properties is offering the Love Mom – Mother's Day Beach Vacation Deal featuring 10 percent off Destin vacation rentals for stays of three nights or more from April 23 through May 13, 2016. The package also includes a Mother's Day gift, the novel "Summer Rental" by New York Times Best Selling Author Mary Kay Andrews.
"As a Mom, I certainly agree that spending precious time with my family is the greatest gift I can receive for Mother's Day," said Newman-Dailey Founder & CEO Jeanne Dailey. "And our vacation specialists enjoy helping Dads and children make plans to surprise Mom with the perfect beach getaway."
In addition to the 10 percent discount on Destin vacation rentals, Newman-Dailey Resort Properties offers guests the "Be Free Bundle," which is included with most Newman-Dailey beach vacation rentals. As part of the "Be Free Bundle," guests receive a Newman-Dailey Gift Card, good toward free activities and movie rentals as well as complimentary seasonal beach service (two chairs and an umbrella) during each full day of the stay. The bundle also includes special offers and discounts toward shops, restaurants, activities, and local services.
While visiting Florida's Emerald Coast, there are plenty of Mother's Day events and activities taking place. From the Mother's Day Brunch Cruise aboard the Solaris Yacht to the annual ArtsQuest Fine Arts Festival held at Grand Boulevard over Mother's Day weekend (May 7 & 8), there is no shortage of mom-friendly activities taking place in South Walton and along Florida's Emerald Coast.
Newman-Dailey Resort Properties features a vast array of well-appointed South Walton and Destin vacation rentals, ranging from spacious beach homes to gulf-front Destin condos. The 10 percent discount is available on stays of three-nights or more between April 23 and May 13, 2016. Use promo code: SPRG16. Some restrictions apply. To learn more, visit http://www.DestinVacation.com or call 800-225-7652.
About Newman-Dailey Resort Properties, Inc.
Newman-Dailey Resort Properties is a premier vacation rental, real estate sales and association management company located in Miramar Beach, Fla. Founded in 1985, Newman-Dailey has been welcoming guests to the beaches of South Walton and Destin, Fla. for more than 30 years. Recognized for excellence, integrity and professionalism, Newman-Dailey consistently receives the "Certificate of Excellence" for positive reviews on TripAdvisor and earned the BBB's 2015 Torch Award for Marketplace Ethics. In addition, Newman-Dailey was voted the "Best Vacation Rental Company" and "Best Property Management Company" by the readers of Emerald Coast Magazine. The Real Estate Division is consistently listed among the top 10 percent of real estate companies along the Emerald Coast for sales. For more sales or rental information, call 850.837.1071, or visit online at DestinSales.com or DestinVacation.com.