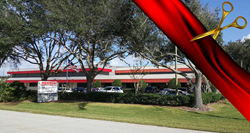 We have expanded exports from 23 to 50 countries in the last four years
Sanford, Florida (PRWEB) March 25, 2016
Hernon Manufacturing announced the expansion of their manufacturing facility at 121 Tech Drive in Sanford, FL. will be officially opened at a ribbon cutting ceremony on Tuesday, April 5, 2016. The expansion quadruples the original 25,000 square foot plant and the project cost is estimated at $2MM. Hernon Manufacturing is spending another $500,000 on equipment for the new building and the project is expected to nearly triple Hernon's production capacity. The Sanford-based industrial solvents and adhesives company anticipates hiring an additional 20 – 30 employees to assist with the increased production and will be paying an average of $60,000 for those manufacturing jobs.
"Hernon Manufacturing has seen significant growth over the last five years that is tied directly to a Total Solutions approach." Said Harry Arnon, CEO of Hernon Manufacturing. "Hernon's ability to offer both adhesive and sealant solutions as well as the precision dispensing equipment to apply those solutions has been very well received by the industries we serve and it is this Total Solutions approach that is making the expansion possible."
The expansion is expected to signify the start of a new level of competition for Hernon Manufacturing within the adhesives industry and on the world stage.
"Hernon Manufacturing has expanded exports from 23 to 50 countries in the last four years," says Edgardo Rodriguez, Sales and Marketing Director for Hernon Manufacturing. "This success has been recognized at the highest levels with the Presidential "E" Award for exports in 2015 and has opened the door to even more opportunities as Hernon's international network and brand recognition continues to improve."
Hernon is expected to use the new capacity to continue driving down production costs making them even more competitive.
New Awards and Honors
In 2015 Hernon Manufacturing received the "E" Award for Exports from the Office of the President of the United States. This award honors Hernon Manufacturing for demonstrating a sustained increase in export sales over a four-year period.
In 1961, President Kennedy signed an executive order reviving the World War II "E" symbol of excellence to honor and provide recognition to America's exporters. The President's "E" Award is the highest recognition any U.S. entity can receive for making a significant contribution to the expansion of U.S. exports. Record years of successive export growth and an applicant's demonstration of an innovative international marketing plan that led to the increase in exports is a significant factor in selecting winners. Click here to visit the source: http://ow.ly/ZRHd4