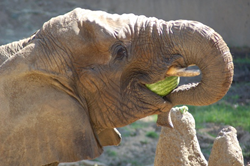 Oakland, CA (PRWEB) March 23, 2016
Saturday marks Oakland Zoo's bi-annual Feast for the Beasts event (9:00am – 3:00pm). The public is encouraged to donate fresh produce to the elephants. Because of unusually rainy weather this year, terrain inside the exhibit is muddy, uneven and considered unsafe for guests. As a result, guests will unfortunately not be allowed to enter the elephant exhibit to spread produce as usual at our Feast for the Beasts events.
ZooKeepers will spread all donated produce, and once all the fruits and vegetables are in place, visitors will be able to watch the Zoo's four African elephants (Lisa, M'dunda, Donna, and Osh) happily devour their favorite treats. Each person who donates produce will receive a free ride ticket. Thank you Primal Pet Foods for being the presenting sponsor of Feast for the Beasts.
***Media Advisory: The best video and photo opportunities will be at 10:30am when the elephants are allowed into their exhibit to discover all the fresh produce placed there by ZooKeepers earlier in the morning (from 9:45am – 10:30am)
Besides the Elephant Feeding, many other feedings are happening during Feast for the Beast.
Feeding Schedule for Saturday, 3/26

10:30am Elephant Feeding
11:00am Bat Feeding
11:30am Black throated monitor Feeding
11:30am Giraffe Feeding
11:45am Meerkat Feeding
12:45pm Baboon Feeding
1:00pm Tiger Feeding
1:15pm Otter Feeding
1:30pm Lemur Feeding
2:00pm Alligator Feeding
3:00pm Coati Feeding
3:30pm Sun Bear Feeding
The Feast for the Beasts event is included with regular Oakland Zoo admission, $13.75 for children (2-14) and seniors (65 -75), $17.75 for adults. Children under age 2 and seniors 76 years of age and older are FREE. Parking is $9.00 per vehicle. For more information, please call (510) 632-9525 or go to: http://www.oaklandzoo.org/Events.php
ABOUT OAKLAND ZOO:
The Bay Area's award-winning Oakland Zoo is home to more than 660 native and exotic animals. The Zoo offers many educational programs and kid's activities perfect for science field trips, family day trips and exciting birthday parties. Oakland Zoo is dedicated to the humane treatment of animals and wildlife conservation onsite and worldwide; with 25¢ from each ticket donated to support conservation partners and programs around the world. The California Trail, a transformational project that more than doubles our size, opens in 2018, and will further our commitment to animal care, education, and conservation with a focus on this state's remarkable native wildlife. Nestled in the Oakland Hills, in 500-acre Knowland Park, the Zoo is located at 9777 Golf Links Road, off Highway 580. The East Bay Zoological Society (Oakland Zoo) is a nonprofit 501(c)3 organization supported in part by members, contributions, the City of Oakland and the East Bay Regional Parks.