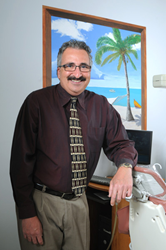 Monroe, CT (PRWEB) March 24, 2016
Monroe, CT periodontist, Dr. Richard Amato, understands that many patients who receive orthodontic treatment to straighten their teeth, may not have the perfect smile they had hoped for when the braces are removed. Many patients who receive braces may notice their teeth having a longer appearance due to developing gum recession. Treatment for this condition typically involves multiple visits of painful gum grafting, but now, Dr. Amato is accepting new patients for a revolutionary alternative treatment called the Chao Pinhole® Surgical Technique. This gum recession technique does not involve a scalpel or stitches and is associated with only a minimal recovery period.
Oftentimes, Dr. Amato will see patients who are disappointed to look in the mirror after receiving orthodontic treatment, and find that their gums are receding. Many tell him they did not understand this condition could alter their smile so quickly. Dr. Amato teaches his patients that orthodontic treatments can sometimes cause the gums to move away from the roots. However, by receiving the Chao Pinhole® Surgical Technique, patients' gums can be moved back into place so they can finally see the smile they have been working towards. Dr. Amato, who specializes in periodontics and dental implants and was the first periodontist in Connecticut to pioneer the technique, greatly recommends this quick and minimally-invasive procedure.
"We make a tiny pinhole above the gum line then, with specialized instruments, we mobilize the gum tissue and drape it down over the receded area and can treat any number of teeth at the same time" Dr. Amato explained. Dr. Amato then places tiny strips of collagen to stabilize the gum tissue in the proper position. One of Dr. Amato's patients who noticed gum recession after her braces were removed, Maura, was in and out in of the office in only 39 minutes.
Patients who receive the Chao Pinhole® Surgical Technique to treat their gum recession, may only need one appointment with a periodontist in Monroe, CT, to see instant results. Those who would like to learn more about this procedure can visit Dr. Amato's website at http://www.connecticutperiodontist.com or call (203) 712-0917 to schedule an appointment.
About The Doctor
Dr. Richard Amato is a periodontist and dental implant specialist who provides personalized dental care using the most advanced technology for patients in Monroe, Connecticut. He has placed thousands of dental implants since 1989. Dr. Amato earned a DDS degree from Stony Brook University. He then completed a full time multi-year specialty residency and received his Certificate of Proficiency in Periodontics from Eastman Dental Center at the University of Rochester. He belongs to the one percent of dentists in the USA currently providing the first FDA-cleared laser procedure for gum disease treatment. Dr. Amato is the first and most experienced provider of LANAP® therapy in Fairfield County, Connecticut as well as the only Periodontist to provide the Pinhole Surgical technique in CT. To learn more about Dr. Amato and his dental services, visit his website at http://www.connecticutperiodontist.com and call (203) 712-0917.