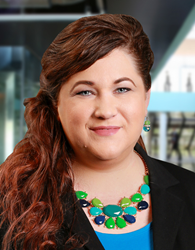 BRG is extremely pleased to have someone of Amy's caliber as part of our organization.
Charlotte, NC (PRWEB) March 25, 2016
BRG is pleased to announce that Senior Strategic Planner, Amy Davis, has been recognized as one of the Charlotte Business Journal's "40 Under 40" award recipients. Based out of BRG's Charlotte, North Carolina office, Amy works with BRG clients to develop strategic solutions that provide the business intelligence to achieve their real estate objectives and goals.
The Charlotte Business Journal's "40 Under 40 Awards" recognizes 40 individuals under the age of 40 across a variety of industries who are positively impacting their community while achieving significant goals in their professional careers. Honorees are viewed as the region's brightest and most talented up-and-comers.
"I am humbled to receive this award and pleased to stand alongside my fellow '40 Under 40' winners, each of whom have made incredible contributions to our community," said Amy. "A very special thanks to the Charlotte Business Journal for selecting me and an enormous salute to BRG, CREW Charlotte, Carolinas HealthCare System, and all of my friends and family for making this possible."
Winners were honored at the 23rd annual "40 Under 40 Awards" celebration on Wednesday, March 16th at the McGlohon Theater in Charlotte.
"BRG is extremely pleased to have someone of Amy's caliber as part of our organization," said Tracy Barnett, BRG Senior Director of Workplace Management Services. "Her professional achievements and community interests represented through her volunteer commitments are an asset to our organization. We are excited to celebrate this special achievement with her!"
For the Charlotte Business Journal's special issue featuring a profile on Amy Davis and her fellow awards winners, please click here.
###
About BRG
BRG helps clients by designing and implementing integrated solutions to address complex workplace challenges. They specialize in advisory services, technology deployment, and program and project management in support of Facilities Management and Corporate Real Estate organizations. BRG is a global company with employees in more than 35 cities and on four continents. For more information, you can visit http://www.brg.com.
Media inquiries contact Nicole Salerno
+1 214.777.5139
nsalerno(at)brg(dot)com