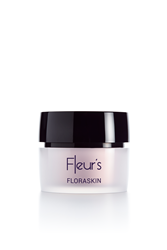 ...a luxurious new anti-aging formula combining two active Floral Bouquets to smooth and plump the skin...
SAINT-MALO, FRANCE (PRWEB) March 30, 2016
Fleur's introduces FLORASKIN Youth Plumping Cream, a luxurious new anti-aging formula combining two active floral bouquets to smooth and plump the skin from the first application.* Fleur's floral bouquets are unique collections of botanical extracts formulated to have a synergystic action on the skin. Fleur's Plumping Bouquet lifts slackened areas of the face and restores youthfulness to the chin and cheekbones. Fleur's Lifting Bouquet does just as its name implies, filling wrinkles and boosting collagen synthesis for smoother, firmer skin, while giving the face a younger, "lifted" appearance. Jojoba oil and shea butter provide lasting nourishment for ultimate softness and suppleness. FLORASKIN Youth Plumping Cream has a velvety texture and a sophisticated scent of hibiscus with notes of cedar, vanilla, rose and rhubarb to transport the senses while transforming the complexion.
FLORASKIN Youth Plumping Cream, 50 ml, suggested retail price $86.50
Directions for use: Apply morning and/or evening to perfectly cleansed face and neck. May be used alone or with the serum of your choice.
Key ingredients:
•Plumping Bouquet - features hibiscus and baobab flowers. Stimulates cell metabolism to plump slackening skin and reduce facial sagging. Plumps cheeks and cheekbones to reshape the face.

Lifting Bouquet - a combination of four powerful floral extracts; edelweiss, inula, acmella and passion flower. Stimulates cell regeneration and increases collagen synthesis. Smoothing, firming and lifting effects.
Jojoba Oil & Shea Butter - nourishing, softening.
Impressive Results:
From the first application:
The skin is visibly smoothed and plumped: 100%*
After one month:
Skin springiness increased by +51% **
Wrinkles filled by +46%**
Firmer skin: 100%*
*Satisfaction test on 24 volunteers aged between 43 and 59 years after twice-daily application for 28 days.**Clinical scoring after 28 days of twice-daily use. Average result.
Fleur's at a glance:
Fleur's, literally meaning "flowers," draws its inspiration and actives from the beauty and power of the floral universe, the splendor and expression of art and ultimately the inexhaustible possibilities of science. These passions are synergistically combined with aromachology, fruits, minerals, floral waters and organic ingredients to create an effective and sensorial skin care line. Fleur's focus is blending effective treatments with a true spa experience in every facet - unique and imaginative treatments and techniques. We are one of the only spa brands with our own laboratory, allowing us to research and cultivate our own ingredients, develop unique cosmetic formulas, manufacture skin care products and create cutting-edge professional treatments to deliver remarkable results.