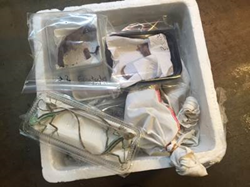 Animals that are smuggled into the country have only about a 50% chance of surviving the trip.
Oakland, CA (PRWEB) March 28, 2016
Two casque-headed iguanas are adjusting well to their new habitat in Oakland Zoo's Reptile and Amphibian Discovery Room after being intercepted and confiscated by USFWS (U.S. Fish and Wildlife Service) last summer. The iguanas, part of a larger illegal wildlife trafficking shipment consisting of 60 animals total, were smuggled into the U.S. and were in dire condition when delivered by a government wildlife inspector to the Zoo the evening of June 3, 2015.
***Media Advisory***
On Tuesday, 3/29, from 11:00pm – 12:00pm, Oakland Zoo will be offering the media photo and video opportunities of the confiscated iguanas. A zookeeper will also be available for interviews during this time. If you plan on attending, please arrive at 11:00am at the Zoo's Lower Entrance, next to the green gate in the parking lot. Contact Erin Harrison at (510) 632-9525, ext 135 or e-mail eharrison(at)oaklandzoo(dot)org
The animals, mostly baby lizards and turtles (including a critically endangered species) were severely dehydrated, cold and parasite ridden. ZooKeepers worked immediately and late into the night to treat the reptiles – their condition upon arrival a result of typical transportation methods used by illegal traffickers - in over-crowded and substandard shipping containers. Some animals died from exposure and parasites due to their overseas journey, but most of the animals that survived, once rehabilitated, were later transferred to other Zoos and are doing well.
"Animals that are smuggled into the country have only about a 50% chance of surviving the trip. When purchasing pet reptiles, people should always research and look at their local reptile rescue centers or at least try to find animals who were bred in captivity to avoid supporting wildlife trafficking." quote from Margaret Rousser, Zoological Manager at Oakland Zoo.
The Illegal wildlife trade is estimated to be a multibillion-dollar business involving the unlawful harvest of and trade in live animals and plants or parts and products derived from them. Illegal wildlife trade is also often unsustainable, harming wild populations of animals and plants and pushing endangered species toward extinction. (USFWS – International Affairs. Illegal Wildlife Trade. (n.d.) Retrieved from http://www.fws.gov/international/travel-and-trade/illegal-wildlife-trade.html
The casque-headed iguanas are now on exhibit with other reptiles including three Amazon Tree Boas, also acquired from the USFW through yet another illegal smuggling confiscation in January 2015. In situations like these, animals cannot be returned to the wild. Instead, USFWS looks to AZA accredited facilities, such as Oakland Zoo, to provide permanent homes and care for the animals while authorities conduct investigations into the case(s).
###
ABOUT OAKLAND ZOO
The Bay Area's award-winning Oakland Zoo is home to more than 660 native and exotic animals. The Zoo offers many educational programs and kid's activities perfect for science field trips, family day trips and exciting birthday parties. Oakland Zoo is dedicated to the humane treatment of animals and wildlife conservation onsite and worldwide; with 25¢ from each ticket donated to support conservation partners and programs around the world. The California Trail, a transformational project that more than doubles our size, opens in 2018, and will further our commitment to animal care, education, and conservation with a focus on this state's remarkable native wildlife. Nestled in the Oakland Hills, in 500-acre Knowland Park, the Zoo is located at 9777 Golf Links Road, off Highway 580. The East Bay Zoological Society (Oakland Zoo) is a nonprofit 501(c)3 organization supported in part by members, contributions, the City of Oakland and the East Bay Regional Parks. For more information, go to: http://www.oaklandzoo.org
ABOUT U.S. FISH AND WILDLIFE
The mission of the U.S. Fish and Wildlife Service is working with others to conserve, protect, and enhance fish, wildlife, plants, and their habitats for the continuing benefit of the American people. We are both a leader and trusted partner in fish and wildlife conservation, known for our scientific excellence, stewardship of lands and natural resources, dedicated professionals, and commitment to public service. For more information on our work and the people who make it happen, visit http://www.fws.gov.