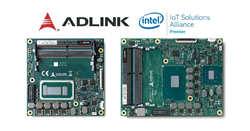 These new modules follow the form, fit, function design principal for optimum flexibility in upgrading and application scalability, enabling accelerated development and faster time-to-market for embedded applications.
San Jose, CA (PRWEB) March 24, 2016
ADLINK Technology, Inc., a leading global provider of cloud-based services, intelligent gateways, and embedded building blocks for edge devices that enable the Internet of Things (IoT), today announced new COM Express® computer-on-modules (COMs) based on the 6th generation Intel® Core™ i7/i5/i3 processors and latest Xeon® processors. These new modules follow the form, fit, function design principal for optimum flexibility in upgrading and application scalability, enabling accelerated development and faster time-to-market for embedded applications.
ADLINK's COM Express computer-on-module (COM) offerings include the cExpress-SL and Express-SL in PICMG COM.0 Type 6 Compact and Basic Size form factors, respectively. Both Basic and Compact size modules are available with 6th generation Intel® Core™ i7, i5 or i3 processors and accompanying Intel® QM170 and HM170 Chipset. In addition, the Express-SLE COM Express Basic Size module features the Intel® Xeon® processor E3-15XX v5 family and Intel® CM236 chipset and supports ECC memory.
In all models, DDR4 memory is supported up to a total of 32GB at 1867/2133MHz, with a lower voltage compared to DDR3 resulting in a reduction in overall power consumption and heat dissipation. The new COMs can support up to 32 GB DRAM in two sockets, removing the 16GB limitation DDR3 posed. In addition, the boards benefit of the enhanced security capabilities of the chipset, including new AES instructions, faster encryption, as well as the Intel® Software Guard Extension and Memory Protection.
These new COMs support three independent UHD/4K displays and hardware codec H.265/HVEC with Intel® Gen9 graphics, making them well-suited for image-intensive applications in automation, medical, and infotainment. Models with an extended operating temperature range of -40°C to +85°C are also available for transportation and defense applications.
ADLINK's latest 6th gen Intel® Core™ processer-based COMs also provide flexible system integration with configurable TDP (cTDP), which allows developers to modify processor behavior to the extent that power consumption and TDP (thermal design power) can be configured; the CPU power consumption can be as low as 7.5W, allowing for even higher CPU performance when constrained in power usage (running on batteries) or heat dissipation (thermal conditions). The rich I/O includes up to three DDI channels, one LVDS (or four lanes eDP), eight high-speed PCIe Gen3, four SATA 6 Gb/s, GbE, four USB 3.0 and four USB 2.0.
"This latest CPU tock not only brings lower power envelopes but also doubles memory capacity, which is an important feature for space-constrained systems with increased density and reduced power consumption," said Dirk Finstel, executive vice president of ADLINK's Module Computing Product Segment. "In addition, support for Ultra-HD/4K and strong GPGPU performance underline the new capabilities that are necessary in today's embedded applications."
All new modules are equipped with ADLINK's Smart Embedded Management Agent (SEMA) to provide access to detailed system activities at the device level, including temperature, voltage, power consumption and other key information, and allow operators to identify inefficiencies and malfunctions in real-time, thus preventing failures and minimizing downtime. ADLINK's SEMA-equipped devices connect seamlessly to our SEMA Cloud solution to enable remote monitoring, autonomous status analysis, custom data collection, and initiation of appropriate actions. All collected data, including sensor measurements and management commands, are accessible any place, at any time via encrypted data connection.
For more information on our COM Express offerings based on 6th generation Intel® Core™ and the latest Intel® Xeon® processors, please visit http://www.adlinktech.com.
ADLINK Technology
ADLINK Technology is enabling the Internet of Things (IoT) with innovative embedded computing solutions for edge devices, intelligent gateways and cloud services. ADLINK's products are application-ready for industrial automation, communications, medical, defense, transportation, and infotainment industries. Our product range includes motherboards, blades, chassis, modules, and systems based on industry standard form factors, as well as an extensive line of test & measurement products and smart touch computers, displays and handhelds that support the global transition to always connected systems. Many products are Extreme Rugged™, supporting extended temperature ranges, shock and vibration.
ADLINK Technology is a premier member of the Intel® Internet of Things Solutions Alliance. From modular components to market-ready systems, Intel and the 350+ global member companies of the Alliance provide scalable, interoperable solutions that accelerate deployment of intelligent devices and end-to-end analytics. Close collaboration with Intel and each other enables Alliance members to innovate with the latest technologies, helping developers deliver first-in-market solutions. The company is also active in several standards organizations, including PCI Industrial Computer Manufacturers Group (PICMG), PXI Systems Alliance (PXISA), and Standardization Group for Embedded Technologies (SGeT).
ADLINK is a global company with headquarters in Taiwan and manufacturing in Taiwan and China; R&D and integration in Taiwan, China, the US, and Germany; and an extensive network of worldwide sales and support offices. ADLINK is ISO-9001, ISO-14001, ISO-13485 and TL9000 certified and is publicly traded on the TAIEX Taiwan Stock Exchange (stock code: 6166).
# # #
Intel, Core and Xeon are registered trademarks of Intel® Corporation in the United States and other countries.