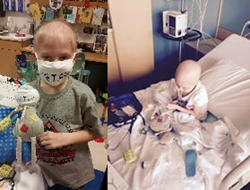 Brooklyn, NY (PRWEB) March 24, 2016
In September, Columbia Utilities and PALMco Energy announced a $10,000 donation to American Childhood Cancer Association (ACCO) to fund a large order of Medical Play Kits to be distributed to children fighting cancer in the communities in which they serve. Now we are proud to share the stories of some of our brave recipients.
The Medical Play Kit includes a stuffed kitten and toy versions of various medical equipment that cancer patients are likely to encounter during treatment. ACCO provides these as a free resource to help a child with cancer better understand and mentally prepare for upcoming tests or treatments. The kit encourages young patients to play doctor and thereby become familiar with the complicated and often frightening medical devices used in their treatment.
Lizzy was diagnosed with Acute Lymphoblastic Leukemia in January of 2015. Pictured on the right, she tends to her Cozy Cat as she is admitted for chemotherapy through a spinal tap. Now attending preschool, Lizzy brings her stuffed kitty to class to show her peers it has a special port like she does.
Alaina, a two year old diagnosed with Pre B Cell Leukemia talks her kitty through the treatment process. "Cozy Cat is getting port accessed. Cozy Cat so brave. Good job Cozy Cat!" she says. In exploring her Medical Play Kit, Lizzy significantly improves her comprehension of her illness which also benefits her compliance with her treatment as she bravely continues to fight.
Jack (left), a 9 year old suffering from Acute Myeloid Leukemia, received his Cozy Cat within the first 6 weeks of chemotherapy. "It was a fun way to play with the newly learned tools that would be his new 'normal,'" his mother said. After months of treatments and a bone marrow transplant, Jack is now home in remission, fighting Graft vs. Host, but fighting well with a Cozy Cat by his side.
"As a family owned business, we understand the precious value of children's health and we are proud to support ACCO's work in helping families of children with cancer," said Robert Palmese, President of Columbia Utilities and PALMco. "We strongly believe in strengthening our communities, and as a father myself, I am honored to provide these young fighters with companionship and comfort until there is a cure and we are grateful to our customers who have joined us in this mission."
Columbia Utilities and PALMco's most recent donation is just a small portion of a longstanding partnership. In addition to previous donations, the companies also donate $1 every month for each gas and/or electricity customer that elects to register through the "Columbia Cares" and "PALMco Cares," programs.
About Columbia and PALMco Utilities
Columbia Utilities and PALMco are sister companies, based in Brooklyn, New York, and owned and operated by the same family. Columbia Utilities supplies electricity and natural gas in New York, while PALMco supplies gas and electricity in Connecticut, Illinois, New Jersey, Maryland, Massachusetts, Ohio, and Pennsylvania.