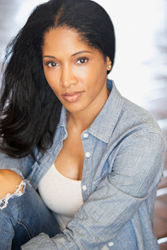 Los Angeles (PRWEB) March 24, 2016
Actor Noree Victoria's portrayal of real-life juror Tracy Hampton on FX's "The People vs O.J. Simpson" turned up the heat in Episode 8 on Tuesday, March 22. Twitter lit up after Noree shed her pumps and blazer and made a mad, mad dash for the door in a failed attempt to escape Jury Sequestration-ageddon.
Noree's character is based on Hampton, who made a dramatic exit of her own and was later hospitalized.
Noree, a native of Baltimore, is a Hollywood up-and-comer who has got the behind-the-scenes look at the popular FX series.
For interviews, contact Robin Beaman | rbeaman(at)beamaninc(dot)com | 312-208-1212 or Shawn Taylor | tshawntaylor(at)yahoo(dot)com | 312-371-6260.