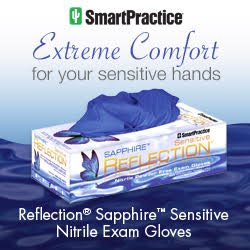 Symptoms of dermatitis affect more than 20 percent of dental workers.
Phoenix, Arizona (PRWEB) March 25, 2016
Reflection Sapphire Sensitive Nitrile Exam Gloves are a comfortable glove option for dental professionals who are sensitive to latex or the chemical additives used in many common dental office products. The gloves are not manufactured with Natural Rubber Latex, Thiurams,Thioureas, Dithiocarbamates, Benzothiazoles and Guanidines, which may cause allergic reactions and sensitivities in some people. In addition, Reflection Sapphire Sensitive combines comfort and control-enhancing features such as thin film thickness, high elasticity, puncture resistance and superior tactile sensitivity. This product is available in economical 200 gloves per box packaging. Dental offices may also request samples at no charge.
It's important to note that the sources of skin allergies and sensitivities are rife in the dental industry and can be attributed to products including soaps, lotions and disinfectants, as well as exam gloves. Should dental workers experience skin irritations, they should seek the testing and diagnosis of a trained clinician to identify the cause. Then, products containing diagnosed allergens or irritating substances can be avoided or replaced.*
According to Curt Hamman, MD, Medical Director of the Contact Dermatitis Institute: "Symptoms of dermatitis affect more than 20 percent of dental workers." Many of these workers mistakenly self-diagnose as having a latex allergy and switch to a nitrile glove option. Yet, they discover that symptoms persist. While only a qualified clinician can diagnose the cause of an allergy or sensitivity, testing has shown that some of these cases involve chemical additives used to manufacture latex, nitrile and chloroprene gloves such as carbamates and thiurams—and rarely Natural Rubber Latex proteins.*
To learn more, speak with a SmartPractice glove specialist at 800.522.0800 or visit smartpractice.com/gloves.
*Source: Hamman, Curt P. "The Latex Problem: It's More Complicated Than You Think." Dentaltown Magazine. Web. 23 Mar. 2016. Reprinted with Permission of Dentaltown Magazine and Dentaltown.com