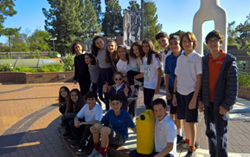 Los Angeles, CA (PRWEB) March 24, 2016
Wise School and Berkeley Hall School teamed up to raise awareness — and thousands of dollars — to build a well in Swaziland. The students raised funds in a variety of creative ways, holding a Thirst Olympics at Wise School, where sponsored "thirst-letes" swam laps in the campus pool and ran laps to raise a grand total of more than $12,500 for The Thirst Project.
Once the students learned about the hardships caused by lack of pure drinking water, they were immediately moved to take action. In Swaziland, many of the children cannot go to school because they are trudging miles to replenish their meager water supply, carrying 40-pound jerry cans of water.
Inspired to help, Wise School, Berkeley Hall and Life Changes Network chose to fund a well through The Thirst Project, designed to connect schools with speakers of high ideals, strong character and noteworthy actions who have made a difference in the world. Its mission is to inspire students to think deeply and devote themselves to living with intention, finding meaning and striving for accomplishments.
Says Tami Weiser, Head of School at Wise School, "I'm so proud of both school communities. They rose to the challenge and were very creative in all the ways they raised money."
Rabbi Joshua Knobel, Wise School Dean of Student & Family Life and a member of the Clergy team at Stephen Wise Temple, adds "Our students experienced the blessing of giving, and are energized to continue to make a difference in people's lives globally and locally."
Mark Laisure of the Life Changes Network explains that The Thirst Project was started by Seth Maxwell when he was still a teen, and its mission is to reach out to middle, high school and college students about the water crisis. One hundred percent of the funds raised go to providing clean water. The Thirst Project has raised over $8 million and funded nearly 1,000 projects to provide 280,000 people in 13 countries with safe, clean water.
Wise School is a Jewish day school in Los Angeles with an exclusive curriculum developed in partnership with the USC Rossier School of Education. Wise School empowers children with a strong foundation in science, technology, engineering, arts and mathematics; and inspires children to learn deeply, be creative and experience wholeness. Specialized programs include: Early Childhood language immersion, Artist in Residence workshops, the Music Innovation Lab, Project Studio (inquiry-based social studies), Debate team, Odyssey of the Mind teams, The Jewish Lens, and an international student exchange. Wise School is located on the campus of Stephen Wise Temple and draws students from Beverly Hills, the San Fernando Valley, West L.A., Santa Monica, Los Angeles and beyond.