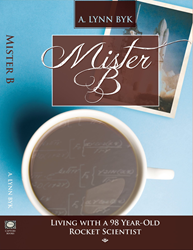 "Mister B is a book - and a man - you won't forget. I found myself laughing out loud, and I received a basic education in rocket science as well.." ~Sue Summers, teacher/author of: Changing the World through Media Education
Littleton, Co / Baltimore, MD / Woonsocket, RI / Tuscaloosa AL (PRWEB) March 31, 2016
Mister B: Living with a 98-Year-Old Rocket Scientist, is a fool's memoir to charm the bejeebers out of the Greatest Generation, WWII and the Cold War. In 2013, an old man's chauffeur-cum-cook records the story of M-i-s-t-e-r B, who was born in 1916, the Rhode Island son of Polish immigrants. The memoirs capture Mr. B from his hand-me-down-baggy-pants-poverty to becoming a self-made man. Joseph Byk begins school as a disruptive and uninterested student.
By the end of his senior year at Woonsocket High, the joke's on him! He regrets his missing geometry lessons. Why? Because suddenly, he aspires to design vehicles that defy gravity. This instructive and humorous aerospace memoir, Mister B, (spell it out), at 350 pages, is also available in hardback, and offers 50 historic photographs to back up each story. Distributed by Baker & Taylor, Mister B can be found in the grumpy ol' men's section at your favorite bookstoe, or Amazon.com.
Luckily, Joe Byk's high school counselor helps him enroll in Auburn University to hone up on his math deficiency and proceed to the Alabama State University. These were inexpensive land grant colleges for children of poor means. Turns out, after graduation, Mister B's career begins with his childhood credentials as a paper boy. He is given a good ol' boy's recommendation on the back of a Rhode Island banker's business card. With that reference to Vultee, in Downey, California, Joe helps to engineer basic trainer war planes.
When at the beginning of WWII, he transfers to the Glen Martin Company in Baltimore, Maryland, he continues to perform stress analysis on space craft, ship bulkheads and airships throughout the cold war. He will eventually help to design the space shuttle Gemini, the tripod for the first moon landing gear of the Viking Lander and the beginnings of Google Earth. He helps to design the BT-13, the Vibrator, the repairs to the broken FDR carrier, and the first man-rated spacecraft capsule and dome. Now, at 98, Mister B is one heck of a grandpa!
Lynn Byk's debut offers timely subject matter for adult children taking care of parents and grandparents. A nice gift on their special day. With aging couched in the pillows of wit and kindness, MISTER B exudes inspiration from history to give a little more to family relationships, and to seek scientific answers to life's little perplexities. MISTER B rolls through controversies of old age with a humor that appeals to a variety of social circles. When a faithful homemaker loses her own house, she makes a new home with a reliable old space engineer. A surprising new life develops when the 98-year old aerospace scientist gains a faithful chauffeur and cook. For those who like real time literary wonders and humor, discover how the ingenious Mister B solves life's little perplexities with wit.
Keynote
Like one of Aesop's fables: when family members of a 98-year-old aerospace scientist decide to move in as his caretakers, he determines to live forever taking them with him for the ride of their lives.
Positioning
Mister B offers us a timely subject matter for adult children taking care of parents and grandparents. A list of book club questions can be found at http://www.CaptureMeBooks.com. Humorists and comedians on aging and science can find samples and excerpts there as well. For a limited time, social studies professors and teachers are offered one book at http://www.CaptureBookstore.com
Competition/Comparisons

Tuesdays with Morrie, [ Doubleday, print $10.00, ISBN:76790592X] 1997, In Print
Forrest Gump, [ Perch Creek Realty and Investment Corps., Vintage Books, print $10.50, ISBN: 0385231342] 1986, Currently In Print
Categories: Autobiography/memoir | Humor | Aerospace | WWII and Cold War.
LCSH: Aging parents-Family Relationships/ Engineers-Family relationships. | Older men-Family relationships. | Inter-generational relations.
LCC HQ1063.6 .B95 2016 (print) | LCC HQ1063.6 (ebook) | DDC 306.8740846-dc23 |
BISAC HUM011000 HUMOR / Topic / Marriage & Family