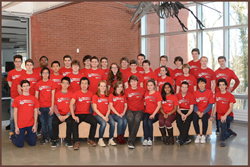 West Chester, PA (PRWEB) March 24, 2016
Westtown School will host the FIRST ® Robotics Mid-Atlantic District Competition on April 2-3, from 9 a.m. - 6 p.m. 38 teams, comprised of more than 1,000 students, will participate in this year's medieval-themed event attempting to "breach their opponent's defenses" and "capture the tower." At the end of most competitions, one team is victorious and is deemed the winner. At Westtown's event, however, a different "win" will take place.
Robotics competitions are fairly standard. Clubs are formed, the competition is announced, and high school teams work feverishly for several months creating their best attempt at a solution to the problem. When Westtown was selected as a host site for this year's Mid-Atlantic District Competition, Steve Compton, Director of Westtown's Science Institute and Head Coach of The Metal Moose, Westtown's Robotics Team, decided the event not only needed to "solve mechanical issues, but also social ones at the same time." Thus the 1st Annual Good Robot Challenge was born. Compton says, "with the creation of this challenge, each year we will seek to leverage the power of numbers to create social good. By connecting our annual district event with the power of all of the participating teams, we will support a selected organization that is creating social change and supporting children through education, opportunity and strong futures."
This year, Westtown is leading a fundraising and in-kind resource donation challenge among robotics teams across the country. Their goal, as part of the 1st Annual Good Robot Challenge, is to raise $38,000 for Yspaniola, a 501(c)3 education organization in the Dominican Republic, by April 30, 2016. Yspaniola provides high quality education programs to over 125 children and young adults in a community of Dominicans and Haitians, many of whom have limited access to basic resources, like education beyond 8th grade and are denied human and civil rights. "Because all of Yspaniola's fundraising and administrative costs are covered by donations from the Board of Directors and grants, 100% of the contributions will go directly to supporting Yspaniola's students and education programs," says Jonathan DiMiao, Director of Strategy and Co-Founder of Yspaniola. "Yspaniola began as a student group eleven years ago, and it's fantastic that the Westtown Robotics Team is continuing the tradition of US students coming together to support education in the Dominican Republic. We are incredibly grateful for this partnership."
Now in their 13th year, Westtown's Metal Moose robotics team has won 13 awards for performance, design, innovation, systems control, and creativity in engineering. They have qualified for and attended the Robotics World Championship five times and grown from a team of six students to over 40. While these are impressive achievements, perhaps their desire to give back is one of their best.
Westtown School is a Quaker, independent, PK-12, day and boarding school with a commitment to educate and empower its students to be changemakers. Situated on a 600 acre campus, Westtown is a place where students develop habits of action: thinking, caring, risking, speaking, collaborating, researching, and problem solving. Westtown believes in the talents of each student and the importance in giving them opportunities for leadership and independence. The school's classrooms are animated by intelligent joy and reflective community work where children are challenged by their teachers, by themselves, and by each other. Yet, powerful education reaches far beyond the classroom. Westtown's mission is to inspire and prepare its graduates to be stewards and leaders of a better world.