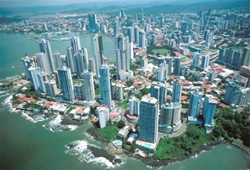 Hillsdale, MI (PRWEB) March 24, 2016
Officials at Panama City High School, Panama, chose the Pro Series Lighting System from Qualite Sports Lighting as the best lighting system for their new Soccer Field Lighting.
With sixty-four Pro Series, 1650 Watt fixtures, student athletes will enjoy quality lighting which meets lighting standards for their level of play. Qualite's Pro Series System features customized lighting design and is factory-wired and pre-aimed for ease of installation. Backed by Qualite's standard 30-year warranty, the Pro Series System is an outstanding value, offering only the features and benefits Panama City High School Soccer required.
Nick Page, President, Qualite Sports Lighting states, "As Qualite continues to build on 30 years credibility in the sports lighting industry, we are pleased and honored to be chosen for international projects like Panama City High School Soccer. We're proud to be a lighting partner in other countries for cricket stadiums, championship tennis venues and other sports facilities. We know our Pro Series System is a perfect fit for high school soccer in Panama as it will expand opportunities for practice and competition, while also meeting their budget considerations."
About Qualite Sports Lighting
Qualite has been the Sports Lighting Partner for High Schools, Colleges, Parks and Recreation Departments, and Minor and Major League Professional Sports Franchises for over 30 years. In addition, Qualite has partnered with an LED Manufacturer to provide the highest quality LED Lighting Systems for sports facilities including retrofits and new construction for University of Phoenix, Minnesota Vikings, High School Stadiums, College Facilities and Park & Rec Fields across the US. Qualite's Q-LED System is the most Energy-Efficient, Highest Lumen Output LED Lighting Solution in the Sports Lighting Industry.