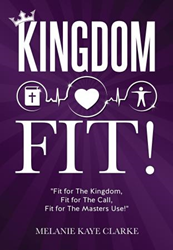 We are Spirit first – we have a Soul and we live/dwell in a Body ...
Atascocita, TX (PRWEB) March 28, 2016
Within the pages of Melanie Kaye Clarke's new book, KINGDOM FIT! - "Fit for The Kingdom, Fit for The Call, Fit for The Masters Use!", ($16.49, paperback, 9781498454605; $26.49, hardcover, 9781498454612; $8.99, e-book, 9781498454629) readers will learn about becoming fit; Spirit-Soul AND Body. Clarke stresses the importance of being spiritually, emotionally and physically ready at any moment for whatever task God asks of his followers. She wants all to know The Truth and be set free by providing beneficial instruction according to The Word of God on becoming "Kingdom Fit". Being or becoming "Kingdom Fit" is much deeper than a physical appearance, ability or conditioning but about a Spirit-Soul-Body condition, connection, unity and the "Perfect Love" of The Father who is Love Himself. She explains that it is how a person responds or behaves when issues arise. The physical (weight issues, sickness, disease) is only the manifestation of a deeper-rooted issue that must be resolved and/or released for effectiveness in recovery and relationship. This book will appeal to many readers. It casts a wide net and is beneficial for the believer and non-believer; Pastor to pew, highly informational and motivational. This book touches various aspects of Biblical instruction including Gods design of prospering in Health - Spirit-Soul and Body – correct in detail and unique.
"We are Spirit first – we have a Soul and we live/dwell in a Body – we choose how we dwell whether Spirit-Soul-Body individually and collectively," states the author. "You are not 'Only Human!' Together we find and fix the cause, becoming well/healthy by creating soundness in relationships – God first then seemingly effortless with one-another, effectively! Devoid of Gods Kingdom, (His ways, His authority operating in and over us) there can be no unity; individually or collectively - Be 'KINGDOM-FIT!'"
Melanie Kaye Clarke has over 25 years of experience and study in the field of fitness, nutrition, health and wellness. She is an instructor, coach, trainer/educator/motivator and student. She studied in the areas of: Group, individual, adolescent, special populations, through senior exercise and nutrition; Anatomy, Bio-mechanics, Exercise Science and Physiology, Nutrition, Senior Fitness as well as in - depth Biblical studies, Truth and Revelation Knowledge, healing, Spiritual growth and development, the study of the human Soul and it's connections.
Xulon Press, a division of Salem Media Group, is the world's largest Christian self-publisher, with more than 15,000 titles published to date. Retailers may order KINGDOM FIT! - "Fit for The Kingdom, Fit for The Call, Fit for The Masters Use!" through Ingram Book Company and/or Spring Arbor Book Distributors. The book is available online through xulonpress.com/bookstore, amazon.com, and barnesandnoble.com.
Media Contact: Melanie Kaye Clarke
Email: Pureinbody(at)gmail(dot)com