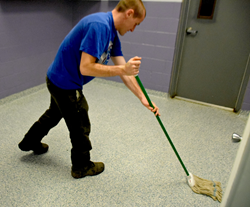 "These organizations work tirelessly to positively impact our own communities and we are proud to support them." --Andrew Libman, president of The Libman Company
Arcola, Ill. (PRWEB) March 24, 2016
The Libman Company, a 120-year old Arcola-based cleaning products manufacturer, has donated hundreds of its household and commercial cleaning products to various local animal shelters in the greater Champaign-Urbana area.
"Animal House Shelter would like to thank Libman for their generous donation of cleaning supplies," said Cindy Ritter of Animal House Shelter in Huntley, Ill. "This donation helps us keep our shelter spotlessly clean so that our animals can enjoy a sterile and healthy environment," said Ritter.
The Animal Shelter House is a non-profit, 501(c) 3, no kill shelter that rescues, rehabilitates and adopts out all breeds of dogs and cats. Other animal shelters that received Libman products include the Vermillion County Animal Shelter in Danville, Ill. and Prairieland Shelter in Champaign, Ill.
"We're happy to be able to donate products that can really make a difference in the day-to-day operations of our local pet shelters," said Andrew Libman, president of The Libman Company. "These organizations work tirelessly to positively impact our own communities and we are proud to support them," said Libman.
About The Libman Company
The Libman Company is a family-owned company that has been making quality cleaning tools since 1896. The company manufactures products from brooms and mops to more specialized tools for kitchen and bathroom cleaning and industrial uses. Libman proudly manufactures most of their products in the United States, including the company's well-known Wonder® Mop. For more information about the Libman Company, please visit http://www.libman.com.