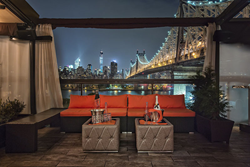 "Utilizing this product allowed us to seat patrons outdoors even during rain storms, doubling our space, therefore, doubling our revenue."
Chester, NY (PRWEB) March 26, 2016
KE Durasol Awnings was recognized with the 2015 International Achievement Award for design excellence in specialty fabrics application for their Ravel project in the retractable awnings category.
Ravel is one of the top 10 rooftops for entertainment in New York City. Ravel used to have a sliding glass conservatory with a custom fabric structure which frequently failed during inclement weather.
KE Durasol Awnings delivered a Gennius waterproof retractable product that will protect the 110 seat outdoor deck from the elements, when needed, and will not interfere with the spectacular view of the Manhattan skyline.
Owner of Ravi Patel stated, "Utilizing this product allowed us to seat patrons outdoors even during rain storms, doubling our usable space and giving us the opportunity to double our revenue." He went on to say, "Don't let the rain eliminate your outdoor space. Invest in the Gennius and take control of your outdoor venue. You can rest at night knowing that you can take those reservations even if it rains."
The International Achievement Awards competition is sponsored by IFAI (Industrial Fabrics Association International), a not for profit trade association. IFAI received a total of 293 entries from 11 countries that were submitted for 31 categories in this year's competition. Winners were selected based on complexity, design, workmanship, uniqueness and function and were announced during the IFAI Expo, the largest specialty fabrics trade show in the Americas.
Since 1984, KE Durasol is one of America's best-selling brands of retractable awnings, solar shades, stationary canopies and more. As one of the most vertically integrated awning manufacturers in the North America, KE Durasol manufactures world class shading solutions for both residential and commercial customers.
For more information, please contact Ana Garcia at KE Durasol Awnings at 845-610-1100.