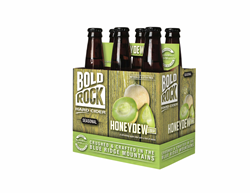 NELLYSFORD, VA (PRWEB) March 24, 2016
Bold Rock Hard Cider announces the widespread release of its new spring seasonal, Honeydew Cider. This limited release, made with locally picked Blue Ridge apples and infused with the bright flavors of real honeydew melons, is now available on draft and in six packs where Bold Rock is sold. The award-winning regional craft cidery's variety of hard cider styles can now be found across the Mid-Atlantic and Southeast from Pennsylvania through South Carolina, including Tennessee.
Honeydew Cider blends the tartness of fresh-pressed apples with a subtle sweetness from the added natural flavors of real honeydew melons. Perfect for barbeques and beach days during the sunny months of spring and early summer, Honeydew is crafted to offer vibrant fruity notes that complement a crisp, refreshing apple finish.  
Honeydew joins Bold Rock's popular original styles Apple and Draft, as well as their newest release, Bold Rock IPA or India Pressed Apple, a dry hopped cider.
Bold Rock was started in 2012 by partners John Washburn and Brian Shanks. Washburn owned a scenic piece of farmland in Nellysford, Va., and he contacted Shanks to see if the New Zealand native and world-renowned cider expert with more than three decades of experience in the industry would be interested in working his magic with locally picked Virginia apples. The two fast friends have since put together a rapidly growing operation, turning Bold Rock into the largest regional craft cidery in the United States.
In addition to Bold Rock's flagship Virginia-based Cider Barn, which features a rustically elegant taproom and scenic surrounding views, the company recently opened a second production facility and taproom in North Carolina, near Asheville in the town of Mills River, utilizing the abundance of premium apples grown in the state's western mountains. Bold Rock ciders can also be enjoyed on tap at the Bold Rock Hard Cider Cellar at Carter Mountain Orchard in Charlottesville, VA and Chiles Peach Orchard in Crozet, VA.
More information is available at boldrock.com.
About Bold Rock:
Bold Rock Hard Cider is the largest regional craft cidery in the United States. A winner of more than 40 awards in the past two years, Bold Rock produces six hard ciders, all made from apples locally grown and handpicked in the Blue Ridge Mountains of Virginia and North Carolina. As the nation's largest independently owned cider company, Bold Rock has production facilities in Nellysford, Va., and Mills River, N.C., and is quickly ramping up distribution throughout the East Coast, now delivering across the Mid-Atlantic and Southeast from Pennsylvania through Georgia. Additional company information can be found at http://www.boldrock.com.
For more information contact Hannah Watson, Mountain High Media, 434-817-2775 ext. 19 or Hannah(at)mtnhighmedia.com.