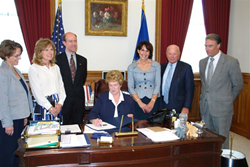 The reports my health-care providers received prior to my later-stage cancer stated that I had dense breast tissue and an ultrasound may be required; I was not privy to those reports nor informed of the limits of mammograms in dense breasts.
Woodbury CT (PRWEB) March 25, 2016
Are You Dense Advocacy, Inc. announces that half the United States now has dense breast tissue notification laws which require physicians to tell patients whether they have dense breast tissue after mammography, a key component to breast health. Indiana Governor Michael Pence's affirmative action today makes his state the 25th to enact a mandatory breast density notification law. The law becomes effective July 1, 2016.
"This is an important day for women's breast health," claims Nancy M. Cappello, PhD, founder and director of two nonprofit organizations, Are You Dense, Inc. and Are You Dense Advocacy, Inc . "After years in the works, women of Indiana at last have access to important, life-saving information, information that enables patients to discuss the masking and causal risks of dense breast tissue, along with other risks, with her health care providers. The intent of the legislation is to further this important dialogue."
Leading the Indiana charge is Carolyn (Carrie) Cagnassola. A pharmacist, attorney, and survivor of later stage breast cancer, Cagnassola became incensed that none of her healthcare providers shared with her important breast health information in all the years she had been going for mammograms. Like 40% of women, Cagnassola has dense breast tissue, the type of tissue that masks cancers on mammograms.
Research for decades has concluded that adjunct screening to mammography in women with dense breast tissue significantly increases detection of small, invasive cancers, invisible by mammography. Early detection means less debilitating treatment and better survivor outcomes.
Cagnassola's path to delayed breast cancer diagnosis is similar to others who, unknown to them at the time of diagnosis, have dense breast tissue. Cagnassola followed screening protocol. She began mammograms at age 40 and never missed her annual appointment. Since 2011, because of an area of "thickness," she began having mammograms biannually. Her stage 3a diagnosis, in 2014, was within days of her faithful 'normal' mammogram. After Carrie's discussions with her radiologist, an ultrasound was finally recommended which led to her cancer diagnosis, metastasized to seven lymph nodes.
"The reports my health-care providers received prior to my later-stage cancer stated that I had dense breast tissue and an ultrasound may be required," states Cagnassola. "I was never privy to those reports nor was I informed of the limitations of mammograms to see cancer in dense breast tissue."
After diagnosis, Cagnassola reached out to Dr. Cappello and, upon her suggestion, Cagnassola contacted legislators and began working with Indiana's Medical Licensing Board to ensure that dense breast tissue is disclosed to Indiana women. A result of her activism led to today's breast density notification announcement.
"Carrie represents hundreds of Indiana women, at average-risk with dense breast tissue, who are relying on their mammography alone find cancer," states Dr. Cappello. "I am heartened that our Connecticut Density Reporting Law in 2009, inspired by my advanced-stage cancer diagnosis, is the impetus for the grassroots reporting efforts across the country.
"We have more work to do as the remaining half the States still leave women in the dark about this critical breast health information," continues Dr. Cappello. "Because, with access, women can have this important conversation with their physicians, ultimately make informed decisions about their breast health care, and potentially save their lives."