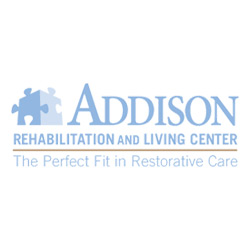 Elgin, Illinois (PRWEB) March 29, 2016
A new skilled nursing facility in Elgin, Illinois is committed to helping patients make a seamless transition from the hospital to post-hospital rehabilitation and care programs. This spring, patients and families are welcomed to visit the facility's all-new mobile-friendly website to learn more about the skilled nursing facility's short-term, post-hospitalization, and comprehensive on-site medical care.
The transition from hospital to post-hospital rehabilitation and care can be a challenging road for many patients and families. To ease the transition, professionals at Addison proactively work with hospitals, doctors, and discharge planners to tailor personalized plans of rehabilitation and care for each individual patient. Each program is designed to meet individual patient needs, ensuring a successful recovery and safe return home.
Nursing and Rehabilitation Care in Elgin, Illinois
Prior to arrival, individual nursing plans are developed to meet the unique needs of each new Addison patient. Nursing plans evolve as time progresses, ensuring each patient continues to receive the highest quality of care. Licensed nurses and staff are on-site and on-call 24/7, and medical treatment is available on-site to assure maximum convenience and comfort. Additional rehabilitation services are available to meet the needs of patients recovering from heart attack, stroke, trauma, chronic diseases, orthopedic injury or replacement, and other conditions that require acute, physical rehabilitation.
At Addison, patients are guided along a path to recovery by an on-site Medical Director who directs and supervises all aspects of medical and nursing care. Under the guidance of the Addison Medical Director, patients are linked with the area's finest consulting psychiatrists, skilled nurses, and Addison Health Care staff to ensure the highest quality of immediate and long-term care, without ever having to leave the facility.
Chicagoland families are invited to visit Addison Rehabilitation and Living Center to learn more about the facility's modern amenities, skilled nursing staff, and unparalleled nursing and care programs. Readers may visit http://www.addisonrlc.com for additional information, or call directly at 847-531-6004.