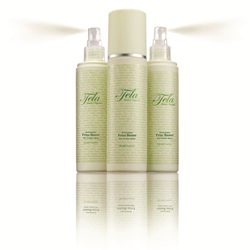 The Frizz Buster unique and versatile formula is a perfect on-the-go compliment to keeping hair beautiful throughout the day, for every lifestyle.
New York, NY (PRWEB) March 30, 2016
Tela Beauty Organics, LLC, the luxury, performance organic hair-care House announced today the launch of Frizz Buster, an anti-frizz dry texture spray for anytime frizz control and any time shine.
Anytime Frizz Control, Anytime Shine
Frizz Buster is designed to provide exceptional anti-frizz control, style manageability, therapeutic hair reparative benefits and luster to frizzy, lifeless hair. Frizz Buster targets all hair types because all hair types react and respond differently to environments that trigger frizz.
The Frizz Buster unique and versatile formula is a perfect on-the-go compliment to keeping hair beautiful throughout the day, for every lifestyle. Frizz Buster can be used at any time during the day to de-frizz and de-frazzle without disrupting your style.
Tela Supernatural Blends
The weightless Frizz Buster formula is infused with an extra concentrated specialty blend made up of unique, proprietary, certified organic seed oils of Quinoa, Baobob, Sunflower, and Lavender Seed to therapeutically refine hair texture, improve its overall appearance, and add healthy shine.
35 Certified Organics in Each Tela Formula – Never Been Done Before
Tela's 35 Certified Organic Ingredient Blend combined with Hydro Pelusi Ceramide Complex, Tela's patent-pending lipid hydration technology offer the most tangible environment for hair to become and remain healthy.
Both work synergistically in the Frizz Buster formula to restore hair and provide supple style control without frizz. This innovative technology is the nerve center of our combined approach with science and unmatched organic performance in every Tela formula.
Philip Pelusi, the world renowned product artist and Tela's Founder, developed Frizz Buster to address a need for a hair-care option that could be instant, easy to use, and adaptable to modern, on-the-go lifestyles with this hair type.
Delicate Approach
"Frizzy hair especially needs hydration, shine, and flexibility – all the time and several times during the day. It is very difficult to hydrate this hair type without weighing the hair down. This requires a delicate approach. My patent pending Hydro Pelusi Ceramide Complex is designed to act as a hydration system in the formula to deliver moisture rich ceramides directly into the hair and to maintain moisture there for the perfect moisture balance. Frizzy hair benefits from the weightless moisture and as a result healthy shine is achieved. I wanted to create something that would be really easy to use and yet solve one of the biggest challenges we see today – frizzy hair textures", says Pelusi
Frizz Buster is Vegan, Gluten Free and Color Safe. Frizz Buster is Silicone and Paraben Free, as well as Formaldehyde and Propelyne Glycol Free.
Frizz Buster is available in a 7.5oz size, (Retail $32.00), and 2oz travel size, (Retail $7.95).
http://www.telabeautyorganics.com
About Tela Beauty Organics by Philip Pelusi
Tela Beauty Organics is innovation and performance, combining organics, high-tech science, and patent pending technology in unprecedented ways. Tela is the first Brand to combine 35 USDA Certified Organics to promote gleaming, luxe quality hair. And to treat hair as you would your finest fabric – think cashmere and silk. Tela provides advanced solutions, and pioneering product artistry by Philip Pelusi as a provocative approach to healthy hair and skin care that todays' consumers are hungry for. Welcome to the innovation and product wisdom behind Tela Beauty Organics by Philip Pelusi.