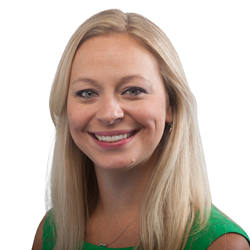 Chicago, Ill., (PRWEB) March 24, 2016
Aiming to create the most effective digital organization in the healthcare field, Sandbox, previously GA Communication Group, one of the nation's leading independent full-service agencies, has promoted digital pro Sarah Kaps to the position of vice president, digital solutions.
Kaps, who was previously senior director, digital solutions, will be overseeing all members of the digital team, including web developers, user experience designers, analytics specialists, digital strategies and email specialists. She will report to Nancy
Finigan, president.
"Sarah's deep experience in the digital space will be a major asset for both our agency and our customers," said Finigan, adding that Kaps sees technology as a fundamental element of creating a great user-centric experience.
Kaps, who joined GA in 2002 after graduating from college, has worked on a comprehensive range of digital initiatives during her 14-year tenure with GA, overseeing video production, digital and interactive initiatives for corporate and brand websites, iPad/iPhone applications, email campaigns and banner ads.
She is a member of the Healthcare Business Women's Association (HBA) and received the HBA's Rising Star Award in 2011. She was also honored with the GA Communication Group's Extraordinary Achievement Award in 2012.
Kaps graduated from Loras College in Dubuque, Iowa with a Bachelor of Arts degree in Business Management.
About Sandbox
Launched in 2016, Sandbox is an independent, full-service agency formed by four complementary entrepreneurial agencies united by a "play well together" ethos of collaboration. Headquartered in Chicago, Sandbox operates from seven locations across the U.S. and Canada. Its roster of clients includes some of the most respected names in human and animal healthcare, agriculture, biotechnology, financial services, travel, and consumer products. To learn more, visit sandboxww.com.