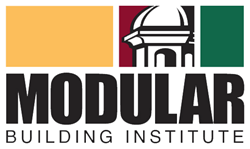 This year's Awards of Distinction contest was very competitive, with more than one hundred entries overall - Tom Hardiman, Executive Director of MBI
San Diego, Calif. (PRWEB) March 29, 2016
The Modular Building Institute's (MBI) 2016 World of Modular conference drew one of its largest crowds ever in San Diego, California with more than 700 attendees including 100 exhibitors. Attendees included developers, suppliers, manufacturers, architects, engineers and more.
The annual event showcases the industry's best building projects in its Awards of Distinction competition. A prestigious panel of judges scored building entries on a number of criteria, including architectural excellence, technical innovation, cost effectiveness, energy efficiency, and calendar days to complete.
"This year's Awards of Distinction contest was very competitive, with more than one hundred entries overall," said Tom Hardiman, Executive Director of the MBI. "Our panel of independent judges had some tough choices to make, so I congratulate all our winners on their awards."
The winner of the coveted "Judge's Choice" and four additional awards including "Best of Show" in the Green Building category was Guerdon Enterprises, LLC with their projects Canyon Lodges, Employee Residence at Old Faithful, and as an affiliate with Williams Scotsman for Stayover™ Cheecham Lodge. The "Best of Show" for permanent modular buildings was Hayes Modular with its West Campus Lofts. All award winners are posted online and available for viewing here.
MBI honored Harry Klukas of Black Diamond Group with its Outstanding Achievement Award. Klukas was humble and thankful for the acknowledgment of his years of dedication and service to the association, thanking his family and those in the industry who have supported him throughout his career.
Maury Tiernan of Geary Pacific Corporation was inducted into the MBI Hall of Fame. The majority of his 41 years of experience includes commercial modular and many years working with MBI to enhance the modular industry. Whether it was serving on the MBI board, serving as president, or writing a column focused on HVAC concerns, Tiernan has continuously served the industry for the better.
MBI concluded the convention with the announcement of the 2017 World of Modular Convention date and location; March 17-20, 2017 at the JW Marriott Tucson Starr Pass Resort & Spa in Tucson, Arizona.
About MBI
Changing the Way the World Builds: Greener, Faster, Smarter. The Modular Building Institute is the international nonprofit trade association that has served the modular construction industry for more than 30 years. Members are suppliers, manufacturers and contractors involved in all aspects of modular projects -- from complex multistory solutions to temporary accommodations. As the voice of commercial modular construction, MBI expands the use of off-site construction through innovative construction practices, outreach, education to the construction community and customers, and recognition of high-quality modular designs and facilities. For more information on modular construction, visit http://www.modular.org.