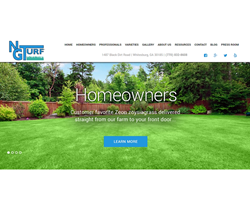 "Our new website is visually attractive and easy to navigate. You'll find useful turf installation and care guides, variety specifics, and a photo gallery for inspiration"
Whitesburg, GA (PRWEB) March 28, 2016
NG Turf sod farm has launched a newly redesigned company website (http://www.ngturf.com) to provide a richer and more informative experience to customers, homeowners, and area landscape professionals. The new NG Turf website is produced in conjunction with Trustworkz, an Atlanta-based internet marketing and web design firm.
"The team at Trustworkz has helped us create a beautiful and very functional site," explains Helen Albrightson, marketing manager at NG Turf. "It's visually attractive and easy to navigate to find exactly what you need."
In addition to beautiful photography of lush, green turfgrass in action, the new NG Turf website offers easy access to the information you'll need when researching sod varieties, installation advice, and care recommendations. The site includes a comprehensive how-to resource area, detailed information about the different turf varieties they grow, and a before-and-after gallery of recent installations for ideas and inspiration.
"Often, the most difficult decision our customers face is which variety of sod to install," adds Albrightson. "We've made that a lot easier now with the new sod varieties decision guide. We've scored all of our turf varieties for shade performance, drought resistance, disease resistance, fertilization needs, traffic tolerance, and mowing frequency. You should be able to weigh all the facts and choose the ideal sod for your exact needs."
Also featured on the NG Turf website is the newest variety of Bermudagrass, called TifTuf. Living up to it's name, TifTuf is setting the new scientific standard in drought resistance and sustainability. It requires less water and fertilizer than any other bermudagrass on the market today. It is the all-around best choice for professionals and homeowners seeking a low-maintenance turf with excellent performance under stress. TifTuf is available now for preorder through NG Turf.
About NG Turf
NG Turf is a family-owned and operated turfgrass grower with over 2,500 acres at six locations across Georgia. Members of the Urban Ag Council, the Georgia Green Industry Association, and certified by GCIA (the Georgia Crop Improvement Association), their 11 proprietary varieties of sod include Zeon Zoysia; TifTuf, TifGrand and TifWay Bermuda; Rebel Supreme Fescue; and TifBlair Centipede. Founded in 1985, NG Turf has become Georgia's premier sod grower and supplier for landscape professionals, golf course developers and superintendents, athletic field managers, municipalities, and homeowners. http://www.ngturf.com