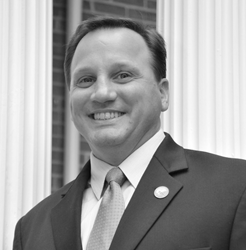 Executive Director Tracie Hovey said in a statement that the festival's highest honor, the Mendez Award, is going to Frederick County Councilman Billy Shreve.
Hagerstown, MD (PRWEB) March 24, 2016
The Maryland International Film Festival-Hagerstown has announced its recipient of the 2016 Mendez Award, the film festival's highest honor. The Mendez Award, named in honor of American Hero Tony Mendez, is being presented to Billy Shreve.
Billy Shreve had a brainstorm, after coming to see the Maryland Film Festival-Hagerstown. He had a simple concept: use the excitement of making films, for a purpose. He knew of the terrible statistics in Maryland concerning drug overdoses and deaths. He pitched the idea to the State of Maryland, and a pilot program was started in Frederick County Public Schools. He invented the Classmates4Life anti-drug student film contest, which attracted nearly 100 entries from elementary, middle and high school students. The nine winners are being shown during the Maryland International Film Festival-Hagerstown in a first-ever partnership of this kind in Maryland.
Billy Shreve teamed up with the Superintendent of Schools in Frederick County. They asked students to create short videos explaining why drugs were dangerous. They could film them on iPhones, iPads, GoPros. Anything they'd like. Classmates4Life began with a kickoff press conference at Walkersville High School in December of 2015, where Superintendent Dr. Terry Alban, Councilman Billy Shreve and Sheriff Chuck Jenkins announced Billy's concept, in partnership with the Maryland International Film Festival-Hagerstown. Students began flooding in their submitted videos. Many were very powerful and creative entries. The Classmates4Life and the school system received so many entries that they had to break down the films into individual YouTube playlists! The 95 films were viewed almost 50,000 times on YouTube!
All student video producers were invited to the inaugural Classmates4Life Red Carpet Gala at the Holiday Inn & Conference Center in Frederick. Each student received a lanyard at check-in, and got an opportunity to pose in front of an Emmy Award, courtesy of the award-winning documentary film created by the Heart of the Civil War Heritage Area. Lieutenant Governor Boyd Rutherford served as a guest speaker. He congratulated the student filmmakers for their efforts, and praised this valuable anti-drug initiative. The Lieutenant Governor is chairman of Maryland's Heroin and Opioid Emergency Task Force. The Lieutenant Governor singled out Billy Shreve and congratulated him for this creative idea.
Billy Shreve is a Commercial Realtor and Consultant and served as a Frederick County Commissioner from 2010-2014, and Frederick County Council Member from 2015-present. He is a product of Frederick County Public Schools, Frederick Community College, and Hood College. Billy realized at a young age that the United States of America is the land of opportunity. It is a place where hard work and determination make a difference and anybody can be successful and live their American Dream. After graduating from high school, he worked two and often four jobs at a time to pay his way through college. He has worked many jobs over the years, ranging from a clerk at 7-11 to manufacturing to sales. At Fairchild Space and Defense Company, the most notable projects he worked on were the Hubble Space Telescope and the Space Shuttle. After leaving the manufacturing industry he began a career in sales and marketing. His first job was selling garage doors, then new homes and now commercial real estate. He excelled at new home sales and was the top sales person in both Frederick County and for the country's 6th largest builder. During his career in new home sales, he was nationally published twice on the subject of sales and marketing. Always active in the Frederick community, Billy served as Chairman of the Frederick County Board of Zoning Appeals and as a member of the Frederick City Planning Commission. This service, along with working as a Realtor and consultant, has given him the unique opportunity to see planning, zoning, and property rights issues from both sides of the aisle. Billy is a Past President of Habitat for Humanity. He was instrumental in creating SB281, which was passed the 2010 Legislative Session in Annapolis and became a law in October. SB281 allows legitimate non-profit organizations relief from fees that prohibit affordable housing from being affordable. He is an avid skier and snowboarder.
The Maryland International Film Festival-Hagerstown's top award, the Mendez Award recognizes Billy Shreve's contributions not only for film, but also for contributions in the anti-drug educational effort, and excellence in contributions for quality of life, and for support of the independent spirit. The award will be officially announced and presented at the opening night of the festival on Friday April 1st, 2016 at the Maryland Theatre.
Past Award Winners have included:
Antonio "Tony" Mendez, CIA Master of Disguise, Founder of the Spy Museum, and Award-Winning Author and Painter.
Joe Carnahan, Film Director and Producer, known as one of the most prolific film-makers in Hollywood, Creative Director of MIFF-H.
Nora Roberts, Author and Entrepreneur, known as the world's most famous Romance Writer, best-selling author, and contributor for Washington County's economic development and tourism.
The fifth annual Maryland International Film Festival-Hagerstown received more than 350 submissions, and the judges announced that over 140 films were selected. Opening night Friday April 1st is taking place at the Historic Maryland Theatre. Other venues on Saturday and Sunday April 2 and 3 include the Academy Theater, the Bridge of Life Center, the Veritas UCC Church, along with the Washington County Free Library Fletcher Branch.
For more information about the festival, and to purchase tickets for the April 1-3 event, see: http://www.marylandiff.com. The Maryland International Film Festival-Hagerstown partners with several local organizations, businesses, and individuals, and major sponsors include the City of Hagerstown, the Hagerstown-Washington County Convention and Visitors Bureau, Washington County Government (Office of Grant Management), the Nora Roberts Foundation, AMVETS, Horizon Goodwill Incorporated, Ovation PR & Advertising, Wells House, Bridge of Life Center, Manning Media, Herald-Mail, and the Maryland Film Office.
###