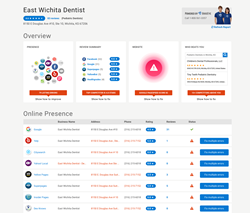 (PRWEB) March 30, 2016
BirdEye Inc, the next-generation customer experience and business reputation platform, today launched a new free Scan Your Business tool that provides businesses with one straightforward dashboard to track and improve:

Online Presence: How your business appears on 100+ sites
Reviews & Ratings: Number of reviews and ratings across the review sites
Competitive Ranking: Which of your competitors are ranking higher than you, beating you
Website SEO: Google page speed score and SEO for your website
From there, businesses can delve even deeper — discover if they are listed on top sites accurately, monitor their reviews and ratings by source, see which sites their customers are most active on, identify their primary competitors, and see how effectively search engines locate them.
Most importantly, these insights are actionable: listed beside all errors are their solutions, so businesses can proactively address them. Businesses can fix their listings to boost SEO and harness customer feedback scores to improve their online presence and reputation; this way, they are found in relevant searches and stand out amongst competitors.
BirdEye not only provides information on presence or site performance--it integrates this data with customer sentiment scores from top review sites; the Scan Your Business tool covers all the bases to present one dashboard of holistic insight. By leveraging this unique multi-dimensional perspective, businesses can boost their performance from every angle.
"The ultimate goal of this tool is to help businesses acquire new customers. Now, business owners don't have to check 100 different places to understand the health of their business," says Neeraj Gupta, COO at BirdEye. "This is a seamless avenue for businesses to hear their customers everywhere online, discover all weak points, and use streamlined solutions to fix each issue. A positive online presence and reputation is the most critical determinant of consumer decisions throughout the customer journey."
To see how your own business looks online, scan it now.
About BirdEye
BirdEye is a SaaS platform reimagining the way customer feedback is used to acquire and retain connected customers by closing the loop between business reputation and customer experience. The BirdEye platform captures real-time customer feedback, ratings and sentiment across every channel -- review sites, social media, and surveys. With BirdEye's tools, businesses can engage in every step of the customer journey, establish a positive online presence, and benchmark performance across locations and against competitors. In today's reputation economy, BirdEye provides the eyes, ears and algorithms necessary to create a stand-out customer experience that pleases a digital consumer society reliant on instant gratification.
To see the BirdEye platform in action, visit birdeye.com/scan-business/. To learn more, go to birdeye.com or call toll-free #1-800-561-3357. Follow us on LinkedIn, Facebook and Twitter.
Contact
Helen Irias
pr(at)birdeye(dot)com
925-588-5647