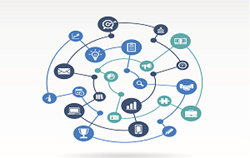 Boulder, CO (PRWEB) April 12, 2016
Enterprise Management Associates (EMA), a leading IT and data management research and consulting firm, today announced it will host a research webinar titled "Network Management Megatrends 2016: Hybrid Cloud, Network Analytics and the Internet of Things," featuring Shamus McGillicuddy, senior analyst covering network management at EMA.
Technology never stands still. Whenever an enterprise adopts the next big technology, it usually falls to the networking team to provide connectivity and support it. These days, enterprises are scrambling to unlock the value of the Internet of Things. They also continue to expand their use of cloud technologies, with many of enterprises establishing hybrid clouds that combine and orchestrate external and internal cloud services. Furthermore, enterprises are trying to unlock the value of network data by applying advanced analytics to everything from raw packets to configuration files.
In its new research study, "Network Management Megatrends 2016: Hybrid Cloud, Network Analytics and the Internet of Things," EMA explores these topics and more. For this biannual report on network management megatrends, EMA surveyed 150 enterprise network management decision-makers on a wide range of topics that are affecting their daily operations. This research explores the Internet of Things, hybrid cloud networking and advanced network analytics. It also explores emerging requirements for network management tools and identifies best practices for network operations success.
During this webinar, McGillicuddy will explore the results of this research, including:

The network technologies enterprises are adopting to support the Internet of Things and the network challenges they are encountering
How enterprises apply advanced analytics to network data to improve operations and support the business
The network technologies enterprises adopt to support hybrid clouds and the challenges they encounter
How the establishment of converged, cross-domain operations centers improves overall network operations
The webinar is Tuesday, April 19 at 2:00 p.m. Eastern. Those who wish to attend can register at: http://research.enterprisemanagement.com/network-management-megatrends-2016-webinar-pr.html
About EMA
Founded in 1996, EMA is a leading industry analyst firm that specializes in providing deep insight across the full spectrum of IT and data management technologies. EMA analysts leverage a unique combination of practical experience, insight into industry best practices, and in-depth knowledge of current and planned vendor solutions to help clients achieve their goals. Learn more about EMA research, analysis, and consulting services for enterprise line of business users, IT professionals and IT vendors at http://www.enterprisemanagement.com or blogs.enterprisemanagement.com.