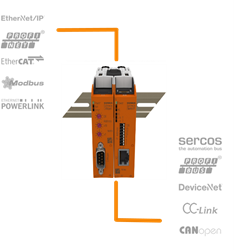 Seattle, WA (PRWEB) April 06, 2016
Phytools LLC, the exclusive distributor for KUNBUS for the Americas, just added the entire line of KUNBUS Fieldbus and Ethernet-based network gateways to its industrial networking portfolio. One can select any two of the current gateway modules from the pool of 10 different protocols allowing companies to build the protocol converter system of choice.
The KUNBUS Gateway enables communication between different fieldbus and industrial Ethernet networks and systems. It converts all data that the target network can transfer. It omits non-transferable data and adds necessary data for the new network.
The KUNBUS gateway series offers a protocol converter that can be attached to DIN rails in a plug and play fashion. The protocol control logic is located in ultra-compact modules with a housing size of just 22.5 x 101.4 x 115 mm. Each gateway module is powered by a 24VDC source and has a maximum power consumption of 3 Watts. Two gateway modules are connected via a jumper to the final gateway solution. Individual protocol modules can be exchanged easily and conveniently.
The KUNBUS modular gateway protects companies' industrial network investment. The modules offer unmatched flexibility via plug and play, saving companies money while creating security.
Sales of Industrial Ethernet technologies are growing faster than ever before and now account for 38% of the global market for industrial networks. Nonetheless, traditional fieldbus networks still command the industrial communications market with 58% of the market and continue to grow at a respectable 7% annual growth rate.
When it comes to connecting field-level equipment, such as transmitters, sensors, actuators, motors, switches, valves, etc., to control systems, fieldbus networks, such as CANopen, PROFIBUS or DeviceNet, are usually the cheapest and simplest approaches. There are other important advantages to fieldbus networks over Industrial Ethernet, including being deterministic, easier to install and troubleshoot, the ability to span longer distances and being less sensitive to electrical noise.
While classic fieldbus networks are the standard and often a better choice for the process industries, Industrial Ethernet, such as EtherNet/IP, PROFINET, and Modbus TCP, does have its advantages and uses. Ethernet-based networks are faster, easier to expand, offer easier integration with controllers and wireless networks, as well as the ability to transmit multiple protocols simultaneously. Given the advantages of both fieldbus and Industrial Ethernet, many companies are opting to use both network types. The challenge then becomes how best to integrate the legacy (fieldbus) and modern (Industrial Ethernet) networks. Can the disparate networks coexist? With KUNBUS Gateways, the answer is a resounding "YES."
About Phytools
Phytools LLC is a leading supplier of innovative industrial networking and communication solutions. They serve customers in the automotive, industrial automation, medical equipment, and similar industries, with high quality embedded networking hardware and software products from leading European manufacturers. To learn more about Phytools, please visit http://www.phytools.com or email them at sales(at)phytools(dot)com.