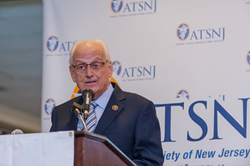 "It is a privilege to be giving the 2016 ATSNJ Presidential Award to Congressman Pascrell for his continued work in the prevention, education, and treatments of brain injuries.
Edison, NJ (PRWEB) March 25, 2016
The Athletic Trainers' Society of New Jersey (ATSNJ) is proud to recognize six individuals who were selected as award winners at the 2016 Awards Dinner and Annual Conference. These six individuals (4 students, 1 physician and a US Congressman) have made an impression on the profession of athletic training within New Jersey.
The 2016 recipient of the ATSNJ Presidential Award is Congressman Bill Pascrell. The Presidential Award is the ATSNJ's highest civilian award. Congressman Bill Pascrell, Jr. was selected due to his dedicated service to concussion awareness and treatment as well as his devotion to sports safety. As the co-Chairman and founder of the Congressional Brain Injury Task Force, Congressman Pascrell has raised the nation's awareness of the dangers of traumatic brain injury (TBI). TBI was identified as the "signature injury" among soldiers serving in Iraq and Afghanistan, and Congressman Pascrell has worked to make sure that our soldiers are properly screened and diagnosed for concussions. He continues to fight for TRICARE insurance coverage to pay for cognitive rehabilitation therapy – the most effective treatment for soldiers recovering from TBI.
After the tragic death of Montclair High School football player Ryne Dougherty in 2008, the congressman's efforts against the dangers of TBI have expanded to help protect young athletes. On Sept. 30, 2010, the U.S. House of Representatives overwhelmingly passed Congressman Pascrell's Concussion Treatment and Care Tools (ConTACT) Act. The legislation calls for the U.S. Department of Health and Human Services to develop guidelines and protocols for the management and treatment of sports-related concussions for the benefit of the nation's student-athletes.
ATSNJ President Eric Schwartz states, "It is a privilege to be giving the 2016 ATSNJ Presidential Award to the Honorable Bill Pascrell for his continued work in the prevention, education, and treatments of brain injuries. Congressman Pascrell has been at the forefront for promoting concussion research and supporting athletic trainers as medical experts when it comes to concussion. We at ATSNJ thank the congressman for his support of the profession of athletic training and making athlete safety a priority!"
The 2016 Tim Hosea team physician award was presented to Dr. Levandowski ia a team physician for The Lawrenceville School, The HUN School of Princeton, The Pennington School, Hopewell Valley Regional School District, Lawrence Township Public Schools, Notre Dame High School and Nottingham High School.. Dr. Levandowski served in the capacities as staff physician, team physician and chief physician to the United States Olympic Committee (USOC). He was on staff at the USOC Training Center, USA Track and Field, Pan American Games and the Haitian National Athletics Team. Most recent, he was named Assistant Team Physician for the US Rowing Team. At the collegiate level, Dr. Levandowski was head physician for the following NCAA Championships: Fencing, Field Hockey, Lacrosse and Wrestling. In addition to his service to educational institutions and the US national teams, Dr. Levandowski is the team physician for Special Olympics New Jersey. During the summer of 2014, New Jersey hosted the Special Olympics USA Games and Dr. Levandowski assumed the role of Medical Director, overseeing a staff of 150 medical professionals caring for 3,500 athletes.
Dr. Levandowski has always strived for advances in the sports medicine field. He was Director of Medical Education for Princeton University. Since 1978, he participated in family practice residencies for Rutgers-Robert Wood Johnson Medical School, Hunterdon Medical Center, JFK Medical Center and Capital Health System. Dr. Levandowski is Director of Primary Care Sports Medicine and Clinical Associate Professor for Family Medicine and Community Health at Rutgers-Robert Wood Johnson Medical School. As the founder of Princeton Musculoskeletal Institute in Lawrenceville, New Jersey, it is not uncommon to see his usual rotation of medical residents honing their evaluation skills under his supervision. Dr. Levandowski has authored numerous publications and provided over 300 presentations to athletic community members at the local and state levels.
Dr. Levandowski was the recipient of many honors and awards including: Mercer County Medical Society, University of Medicine and Dentistry Clinical Faculty Award, American Academy of Family Physicians Exemplary Teaching Award, Athletic Trainers' Society of New Jersey Presidential Award and the Lancaster General Hospital Most Outstanding Clinical Instructor. In 2008, the Eastern Athletic Trainers' Association (EATA) presented him with the Dr. David G. Moyer Award. This reinforces the impact and respect Dr. Levandowski had left on athletic trainers in the East from Maine to Delaware.
Outside of his medical practice, Dr. Levandowski serves the public as a member on the Board of Directors/Trustees in the following areas: New Jersey Governor's Council on Physical Fitness and Sports, New Jersey State Interscholastic Athletic Association Sports Medicine Advisory Committee, UMCPP: Princeton Medical Advisory Board and Special Olympics New Jersey Board of Directors. Internationally, he was on the Board of Directors for Medical Missions to Haiti. His professional dedication to sports medicine, as exhibited through his extensive curriculum vitae, places him as a highly respected leader amongst his peers. Reflecting upon Dr. Levandowski's friendly and compassionate demeanor, one can easily see that he possesses all the qualities of our dear friend, Dr. Timothy Hosea.
In cooperation with the athletic products division of the Johnson and Johnson Corporation, the Athletic Trainers' Society of New Jersey honors a student with the Victor (Vito) D. Recine Memorial Scholarship. Vito Recine was an Athletic Trainer for over 40 years in New Jersey, and a leader in the development of our Athletic Training Practice Act as well.
This year's recipients are Katherine Godfrey from Ocean Township High School and Andrew Gansas from Raritan High School.
Ms. Godfrey was sponsored by Ocean Township Athletic Trainer John Desimini. Katherine holds a 93 GPA based on a weighted 100 point scale. John Desimini, her Advisor and Athletic Trainer states, "Katherine is a young woman who loves helping people. She is an individual that others gravitate toward. She is a natural leader not only for her work ethic, but also for her caring for others. Her personality is inviting and she has the ability to put ease into a room."
The Athletic Trainers' Society of New Jersey, Inc. has named an undergraduate and professional study program for Richard Malacrea, honoring an outstanding student from the ATSNJ membership, who has excelled both academically and as an athletic training student.
This year's recipient is Haley Anderson from William Paterson University. Ms. Anderson was sponsored by Alison Moquin, Assistant Athletic Trainer at William Paterson University. Dr.Joelle Rehberg, Program Medical Director at WPU states, "Clinically, Ms. Anderson demonstrates that she has the ability to transfer her knowledge and skills into positive patient outcomes. She exhibits maturity and professionalism beyond her years, and is perhaps one of the most self-motivated and driven students I have ever worked with."
Haley holds a 3.75 GPA on a 4.0 scale. She was an intern with the New York Football Giants. She is the WPU Athletic Training Club President, ATSNJ Student Delegate for William Paterson University, ATSNJ Student Committee Chairperson and the Eastern Athletic Trainers' Association Student Delegation – New Jersey Representative. She has also volunteered her time as a Medical Volunteer at Special Olympics, Fall, Winter, Summer Games and TCS NYC Marathon.
The Jack Weakley District 2 Scholarship is named for an individual who is a champion of Athletic Training on a national level, and a true friend to Athletic Trainers in the State of New Jersey.
This year's recipient is Sara Garner from Kean University. She was sponsored by Keir Livingston, Assistant Athletic Trainer at Kean University. Dr. Gary Ball, Program Director, states, "Sara has proven herself to be a remarkable young woman whose work ethic and integrity are inspiring. Her integrity affords her the ability to develop effective interpersonal relationships and establish great lines of communication with peers, supervisors, athletes, coaches, and all those she interacts with."
Sara holds a 3.92 GPA on a 4.0 scale. She was a Volunteer Athletic Training intern with the Special Olympics Shriver Cup Unified Championship, Fall Games and Youth Athlete Program. Sara is also an ATSNJ Student Committee Representative, ATSNJ Secondary Schools Committee Member, the Kean University Athletic Training Club Treasurer and on the ATSNJ 5K Fun Run Committee.
The ATSNJ would like to congratulate all of this year's scholarship recipients and award winners. Thank you for all you have done to better the profession of Athletic Training in the State of New Jersey. We wish you much continued success.
For more information about the ATSNJ, please visit our website at http://www.atsnj.org or visit our social media pages on Facebook, Twitter, and Instagram.