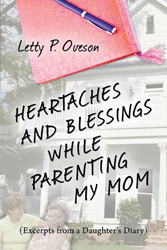 (PRWEB) March 31, 2016
Uncover the mixed emotions that come when children become parents as well as a heartfelt tribute to a wonderful mother in "Heartaches and Blessings while Parenting My Mom."
Letty's mother was intelligent, down-to-earth, outspoken and clear-headed—a loving mother to her five children and a hardworking, successful schoolteacher. However, after her mother suffered several small, debilitating strokes, Letty, a senior citizen, found herself in the position of having to parent her own mother.
But in the midst of the heartache, frustrations, misunderstandings and emotional exhaustion, Letty began to recognize and accept the challenge of her new role. Instead of just heartaches, she discovered the blessings of her unchartered role-reversal, including a new understanding of herself and her world as well as the opportunity for self-growth.
In touching diary entries chronicling her experience intertwined with accounts of her mother's life from the 1930s through the present day, "Heartaches and Blessings while Parenting My Mom" is an engaging, humorous tribute that provides support, empowerment and encouragement to adult caretakers.
About the Author: Letty P. Oveson is a retired elementary school teacher and junior high school guidance counselor. She lives in north central Missouri with her two tabby cats. She enjoys spending time with her five children and many grandchildren and great-grandchildren.
HEARTACHES AND BLESSINGS WHILE PARENTING MY MOM (ISBN: 978-1-60693-802-7) is now available for $22.50 and can be ordered through the publisher's website:
http://sbprabooks.com/lettypoveson/ or at Amazon.com or Barnesandnoble.com.
WHOLESALERS: This book is distributed by Ingram Books and other wholesale distributors. Contact your representative with the ISBN for purchase. Wholesale purchase for retailers, universities, libraries, and other organizations is also available through the publisher; please email bookorder@sbpra.net.