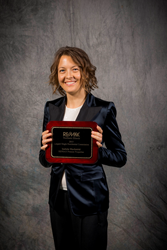 CHICAGO (PRWEB) March 26, 2016
RE/MAX recently honored two of its brokers for earning the largest residential sales commissions of 2015 in its northern Illinois real estate network. Izabela Machnicki of RE/MAX Premier Properties, Chicago, earned the largest residential sales commission, and Basel Tarabein, broker/owner of RE/MAX At Home, Rolling Meadows, captured the year's largest residential referral commission.
Machnicki received a six-figure commission check when she successfully listed and sold a 46th floor unit at Trump Tower, 401 N. Wabash Ave. The transaction was remarkable not only for the commission it earned but for its family ties. The sellers of the unit were Machnicki's parents, and the buyers were represented by her son, who is also a real estate broker.
Tarabein's winning referral commission also had a family connection because the buyers were cousins of his who were resettling from Syria to the United States to escape the dangerous conditions created by the civil war there. He helped connect them with a builder in Southern California where they purchased a newly built home in which to begin a new chapter in their lives.
RE/MAX agents consistently rank among the most productive in the industry. In 2015, RE/MAX Northern Illinois agents averaged 18 transaction sides. RE/MAX has been the leader in the northern Illinois real estate market since 1989 and is continually growing. The RE/MAX Northern Illinois network, with headquarters in Elgin, Ill., consists of more than 2,250 sales associates and 105 independently owned and operated RE/MAX offices that provide a full range of residential and commercial brokerage services. Its mobile real estate app, available for download at http://www.illinoisproperty.com, provides comprehensive information about residential and commercial property for sale in the region. The northern Illinois network is part of RE/MAX, a global real estate organization with 104,000+ sales associates in 90+ nations.
####
EDITOR'S NOTE: RE/MAX® is a registered trademark. Please spell in all caps. Thank you. This release is posted at blog.illinoisproperty.com.