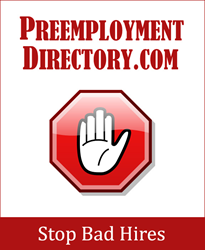 "Litigation for FCRA violations is increasing and the need to train people involved in hiring has never been greater."
Alpharetta, GA (PRWEB) March 26, 2016
PreemploymentDirectory.com announced a significant addition to its industry leading background screening information portal for human resource professionals, a Calendar of Events which will feature webinars, podcast, presentations and training offered on background screening practices, legal issues, new requirements, data protection/privacy, drug screening, access to public records and much more. The HR community and hiring managers will now have a place they can go to find the education and training being offer that deals with background screening.
Until now HR professionals have been limited to relying on receiving training information either from their current background screening provider or from notifications sent in mass to HR list, generally, via email. With the volume of emails that all of us receive daily these emails can be burdensome or get caught in SPAM filters. This new Calendar of Events provides a valuable solution to this problem because now HR professionals can visit the Calendar of Events, on demand, when they want to look for training dealing with background screening and be able to select from a wide array of offerings.
W. Barry Nixon, SPHR, SHRM-SCP, COO, PreemploymentDirectory.com, said, "While Background Screening has become a ubiquitous process tied to hiring it has also become an increasing source of litigation for Fair Credit Report Act (FCRA) violations and the need for employers to provide training for people involved in the hiring process in these matters has never been greater." Nixon added, "The good news is that background screening firms, law firms, professional training firms and professional associations such as the National Association for Professional Background Screeners (NAPBS) are offering training in the areas that are needed. The challenge has been finding the training that you need, when you need it and PreemploymentDirectory.com has put forth a solution to solve this problem."
The Calendar of Events has been set up so that organizations from around the world can self-post their events, subject to approval, at no cost to them. PreemploymentDirectory.com is offering this as a community service to facilitate HR professionals and hiring managers getting the training they need.
You can access the Calendar of Events in the Background Screening Knowledge Center of PreemploymentDirectory.com. For additional information about the Calendar of Events contact W. Barry Nixon at 1-949-770-5264 or wbnixon(at)preemploymentdirectory(dot)com.
About PreemploymentDirectory.com:
PreemploymentDirectory.com is the leading online directory of background screening companies designed to make it easy for businesses to quickly find a screening provider to meet their needs. The Directory includes an information rich Background Screening Knowledge Center that includes both U.S. and International Resources about conducting background checks around the world.
In addition, to his responsibilities focused on supporting the background screening industry, Mr. Nixon serves as an International Ambassador for NAPBS on their Global Advisory Council.