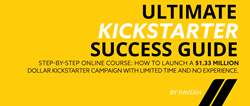 We learned the most efficient way to target the specific consumers who are most likely to buy. Now we're sharing exactly how we did this so others can cash in on our success.
Provo, Utah (PRWEB) March 25, 2016
Seven Figure Funding has launched the Ultimate Kickstarter Success Guide. The course is led by Ravean heated jacket co-founder Bryce Fisher.
Late in 2015, Ravean raised $1.33-million from 6,480 backers, one of the top-3 most successful apparel campaigns in Kickstarter history. Now the steps that drove traffic and conversions to Ravean's Kickstarter are available for all future crowdfunders.
"We learned the hard way, spending thousands of dollars on ads trying to reach the perfect audience to increase conversions on our Kickstarter," said Seven Figure Funding co-founder Bryce Fisher. "We kept adjusting our strategies until we found the perfect formula and the results were spectacular. We learned the most efficient way to target the specific consumers who are most likely to buy. Now we're sharing exactly how we did this so others can cash in on our success."
Since the conclusion of Ravean's campaign, Fisher has been inundated with hundreds of calls and emails from crowdfunders asking for advice. He's been generously sharing his methods with campaign creators and he's helped several of the biggest campaigns of 2016 duplicate his success. Luuup Litter Box raised over $1-million and Smart Parka raised over $2 million. Both consulted with Fisher and followed the same steps that are outlined in the Ultimate Kickstarter Success Guide. There aren't enough hours in a day to help everyone, so the course was born.
The Ultimate Kickstarter Success Guide features the following four modules:
1. How to know if you have a 7-Figure Crowdfunding idea
2. How to prepare and build a 7-Figure Crowdfunding launch
3. How to run and market a 7-Figure Crowdfunding campaign
4. How to manage a successful post-crowdfunding fulfillment and transition
What does the course cover? You'll learn the following in the online course:

Step-by-step how to master paid marketing methods like Facebook Ads
Tons of no-money marketing hacks
What Kickstarter marketing firms we used, when and how to use them
Intro to post-campaign management for successful fulfillment and continued momentum
Foolproof method to know if your crowdfunding idea will be successful before launching
Pre-launch schedule and techniques to establish a tribe and build hype
Critical campaign and video creation advice
Seven Figure Funding is an online course available for the next 30 days at a 50% discount of $99. It includes a 30-day money back guarantee and 3 extra bonuses with a $280 value at no charge. For more information and to order visit:
SevenFigureFunding.com
About Seven Figure Funding
Let's face it, no money no talk when it comes to a startup, and we know that better than anybody. We started Seven Figure funding to help other businesses find the money they need to create and launch a successful business. Our mission is to provide the resources and education that will give you the ability, know-how and tools to go out and find the money you need to fund your dreams. Seven Figure Funding was founded by the creators of the highly successful Ravean Heated Jackets Kickstarter campaign. Ravean raised $1.33M on Kickstarter, $100,000 in up sales following Kickstarter, and another $170,000 on Indiegogo. Grossing $1.6 million in 5 months.
Upon the completion of Ravean's successful crowdfunding run, the Ravean team was literally bombarded with hundreds of questions a week about how to run a successful crowdfunding campaign. That was when Seven Figure Funding was born. This course and company was built to help others have the same success as we did.