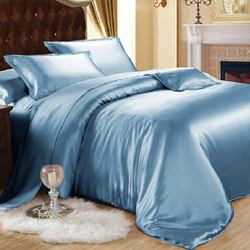 Unparalleled sense of luxury and comfort next to the skin.
(PRWEB) March 29, 2016
ElleSilk.com, a leading brand in 100% Mulberry silk bedding & silk sleepwear, has proudly added blue Mulberry silk sheets to its collection. As a calming color, blue color really makes an impact during the sleep.
ElleSilk's new added silk silk sheets are arranged from Light Blue, Royal Blue, Dark Blue, Navy blue to Blue Gray. They are thoughtfully selected to assure a bedding ensemble with enduring appeal. Blue enhances the mood and mulberry silk offers exceptional comfort, so they can help you fall asleep easier.
To satisfy the needs of customers, ElleSilk.com developed the color in several different shades so that customers can always find the perfect one. While the color may be brilliant, the material is more brilliant. Using the finest, heavyweight 22mm 100% Mulberry Silk, these sheets are stronger and last longer than ever, and they are machine washable.
In addition to that, ElleSilk offers up to 15 size options for all silk sheets, especially for Europe, United Kingdom, North America, and Australian customers, at an affordable price, starting from $129. ElleSilk also features personalized custom size service. Don't hesitate to send an inquiry when needed.
High-quality, flexible color and size options, full money back guarantees, and user-friendly, customers will not go wrong with ElleSilk.com.
To see ElleSilk's full range of 2016 blue silk bedding visit https://www.ellesilk.com/silk-bed-linen/silk-sheet-sets.html.