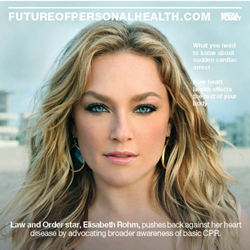 (PRWEB) March 25, 2016
The print component of "Cardiovascular Health" is distributed within this Friday's edition of USA Today, with a circulation of approximately 450,000 copies and an estimated readership of 1.3 million. The digital component is distributed nationally, through a vast social media strategy, and across a network of top news sites and partner outlets. To export the digital version of the campaign, click here.
"Law and Order" star Elisabeth Rohm appears on the cover of the print publication, and the article featured in the interior showcases her collaboration with the American Heart Association, advocating for increased awareness of basic CPR.
This campaign was made possible with the support of the American College of Cardiology, Cleveland Clinic, American Heart Association, Women Heart, Elisabeth Rohm, the National Kidney Foundation, Sudden Cardiac Arrest Foundation, Cathy Elton, Preventice Solutions, iRhythm Technologies, CardioComm Solutions, Novartis and the Society for Cardiac Angiography and Intervention.
About Mediaplanet
Mediaplanet is the leading independent publisher of content-marketing campaigns covering a variety of topics and industries. We turn consumer interest into action by providing readers with motivational editorial, pairing it with relevant advertisers and distributing it within top newspapers and online platforms around the world.