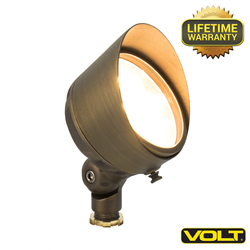 ...we enhanced the product and kept the price about the same.
Tampa, FL (PRWEB) March 29, 2016
VOLT® Lighting, leading factory-direct lighting manufacturer, announced today the introduction of a new generation of landscape lights. This new series, the Infiniti™ G3 LED Spotlights, feature several improvements while maintaining affordable pricing for the consumer.
Steve Parrott, VOLT's Communication Director, remarks on the new lights, "The previous Infiniti™ G2 fixtures were excellent in every way – they received high praises from our customers. So, why replace them with the new G3 line? The answer is found in a number of improvements that make the fixtures even better performers."
The improvements include:

Adjustable & removable glare guard to make it easier to conceal the light source in the landscape
Improved knuckle for more precise aiming and locking in position
New body design for better heat dissipation – prolonging the life of the LEDs
Better moisture seals to protect the components from water damage
Parrott discusses another reason for the new series, "Because of improvements in our manufacturing process, we enhanced the product and kept the price about the same. We are unlike other manufacturers in that we always pass on savings to our customers."
This focus on affordability has been a cornerstone of VOLT's success. Their ability to provide professional quality at extremely low prices is a boon for professionals because they can charge less for their projects (and get more work). And, it is a boon for do-it-yourselfers, because they can afford pro quality."
The company continues to develop new products and is said to be releasing a whole new line of path lights in the near future. It seems they are well on their way to beating their record of over 100 new products in 2015.
VOLT® Lighting Infiniti™ G3 Integrated LED Spotlights are only available through the company's website: http://www.voltlighting.com.
About VOLT Lighting
VOLT® Lighting is the leading factory-direct supplier of high-quality, low-cost landscape lighting products and systems. For more information call 813-978-3700 or email (customersupport(at)voltlighting(dot)com).