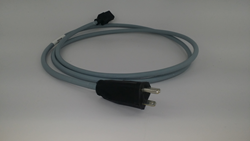 We're excited about the steady growth in demand for LSZH cords and cables
North Adams, MA (PRWEB) March 27, 2016
Cord Master Engineering has enjoyed growing demand for their LSZH COTS power cords and data cables. The growth in demand has caused the company to hire additional production staff.
"We're excited about the steady growth in demand for low smoke zero halogen power cords and data cables," said Bernie LaRoche, president of Cord Master Engineering. "The commercial off the shelf nature of these products results in simplified ordering, minimal engineering and batch production runs which allow us to control costs while competing on important factors like quality and delivery."
Low Smoke Zero Halogen cords and cables are used in enclosed environments where fire can cause traditional PVC cords and cables to produce poisonous and corrosive gases. COTS cords use standard connectors and wires in custom lengths to meet specific requirements. The combination of COTS and LSZH is popular in aerospace, military and data center applications.
"Lead times remain in the 2-4 week range for most power cords and data cables," said Luis Teixeira, COO. "We've streamlined our operations substantially which allows us to meet our customers' quick turnaround needs. Some part numbers are even available from inventory."