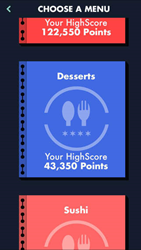 Chicago, IL (PRWEB) July 27, 2016
Inspired by the diverse and renowned cuisine of the Windy City, Bistro Bash: Chicago teams up with local restaurants to put people's food knowledge to the test. Built around short bursts of gameplay, players race against the clock to find correct ingredients for their favorite dishes.
Production company Nerve Berry LLC tapped Chicago-based app makers Eight Bit Studios to serve up the newest version of Bistro Bash: Chicago, available on the App Store for free and currently riding a 5-star customer rating — the best possible — which is a highly sought after achievement for any app producer.
"We love all things Chicago, especially the food. So when Anthony reached out, we immediately started salivating at the idea of promoting local cuisine though a mobile game," said Eight Bit Studios Co-Founder Steve Polacek.
The latest app release can support unlimited Chicago eateries looking to "gamify" their dishes. This means endless menu possibilities as more restaurants get added to the game. One of the first to get on board was woodfire pizzeria Pazzi di Pizza.
"We wanted to be part of Bistro Bash: Chicago because it was a unique extension to our digital presence," said Mario Marino, Co-Owner of Pazzi di Pizza, a popular pizzeria in Elmhurst, Illinois.
Nerve Berry LLC is looking to add 20-30 restaurants before the end of the year. Interested restaurants should contact President & Founder, Anthony Iavorone directly.
"I would love to get a restaurant like Chicago Bagel Authority or Cheesie's. Not only are they Chicago staples, but they have fantastic menus," said Anthony Iavarone, creator of Bistro Bash. To be considered, a restaurant must be culturally unique and relevant to the Chicago dining scene. Nerve Berry LLC is willing to offer equity stake to restaurants that participate in marketing 'Bistro Bash: Chicago.'