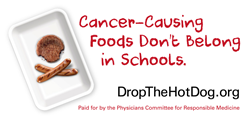 "Citizens in colorectal cancer hot spots are facing death by deli meat," says Physicians Committee dietitian Karen Smith, R.D. "Taking cold cuts and other processed meats like hot dogs and bacon out of school meals could help prevent future fatalities."
WASHINGTON, D.C. (PRWEB) March 25, 2016
The Physicians Committee—a nonprofit of 12,000 doctors—has placed 23 billboards in 12 cities warning the public that cancer-causing processed meats such as hot dogs don't belong in school meals. The billboards are posted in Nevada, Mississippi, Oklahoma, Arkansas, Louisiana, and West Virginia, which are the six states with the highest colorectal cancer death rates, according to the Centers for Disease Control and Prevention.
The billboards feature the image of a skull and crossbones formed from a sausage patty and hot dogs and warn "Cancer-Causing Foods Don't Belong in Schools. Processed Meats Cause Cancer. DropTheHotDog.org." The billboards coincide with National Colorectal Cancer Awareness Month.
"Citizens in colorectal cancer hot spots are facing death by deli meat," says Physicians Committee dietitian Karen Smith, R.D. "Taking cold cuts and other processed meats like hot dogs and bacon out of school meals could help prevent future fatalities."
A recent World Health Organization report found that processed meats such as hot dogs, pepperoni, bacon, sausage, and deli meats are "carcinogenic to humans." The authors highlighted a meta-analysis that found each 50 gram portion of processed meat—approximately the size of a typical hot dog—eaten daily increases the risk of colorectal cancer by 18 percent. The report also observed associations between red and processed meat products and stomach, pancreatic, and prostate cancers.
In October, the Physicians Committee filed a petition calling upon the U.S. Department of Agriculture to stop offering processed meats for purchase, subsidy, and reimbursement under the National School Lunch Program and National School Breakfast Program. The petition asks USDA to encourage schools that offer processed meats to include alternatives to these products in menus.
Founded in 1985, the Physicians Committee for Responsible Medicine is a nonprofit health organization that promotes preventive medicine, conducts clinical research, and encourages higher standards for ethics and effectiveness in research.