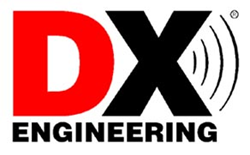 Tallmadge, OH (PRWEB) March 27, 2016
DX Engineering provided the EP2A Iran DXpedition team with a Hi-Z Antennas Triangular Array System as they attempt to activate the country under callsign EP2A and make contact with as many other Hams from around the world as possible. Iran is seldom activated, so this is an excellent opportunity for operators pursuing the prestigious DXCC award to grab a rare contact.
The Hi-Z Antennas Triangular Array System delivers incredible receive performance using three relatively short verticals spaced at 50 feet apart. The Hi-Z Antenna Triangular Array system also boasts six-direction adjustable receive capability, so the EP2A operators can alter the antennas' phasing to ensure optimal reception towards a particular region. This feature is also handy in combating strong interfering signals generated from a specific location.
The Hi-Z Antennas' Triangular Array System consists of a controller, rotary switch box, transformer, three amplifiers, preamp, and a 75 ohm delay cable. The system requires three 18-24' vertical antennas, which are sold separately.
To give Amateur Radio operators a better idea of what the EP2A DXpedition team will bring with them to Iran, DX Engineering created an EP2A Iran DXpedition Combo. Built around the Hi-Z Antennas Triangular Array System, the combo also includes Kenwood's TS-590SG HF+6M Base Transceiver, an ACOM 600S Solid State Amplifier, and a DX Engineering 80 Meter Self Supporting Heavy Duty Vertical Antenna to ensure excellent HF transmit and receive performance.
Learn more about the EP2A Iran DXpedition Combo at DXEngineering.com.
Get more information on the EP2A Iran DXpedition at its website.
DX Engineering
DXEngineering.com
1-800-777-0703