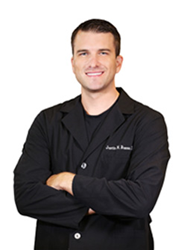 "Many patients come in who are embarrassed or ashamed of their smile, and it's those people I want to help." – Dr. Justin Russo
Raleigh, North Carolina (PRWEB) March 28, 2016
Dr. Justin Russo, an experienced family dentist in Raleigh, NC, has recently received fellowship status in the International Congress of Oral Implantologists. Dr. Russo completed the Triangle Dental Institute's Implant Continuum designed to further train dentists and expand their knowledge of dental implants. This continued education course provides Dr. Russo, of the Raleigh North Carolina area, with the latest advancements in implant technology.
Within the past few decades, implant dentistry has become more advanced and more common than ever before. The Triangle Dental Institute's Implant Continuum aims to provide dentists, such as Dr. Russo, with the most advanced techniques to build the skills and knowledge to accommodate those with missing teeth or in need of a smile enhancement. The course in particular focuses on the needs of patients with missing teeth, and how to use implants and prosthetics to their full potential. The course also includes experience using the CT cone-beam technology and performing live surgeries.
There are several options to replace a tooth, but the most modern, long-term solution is an implant. Dental implants are made from medical grade titanium, which fuse with the jawbone, stabilizing the jaw and stimulating it to prevent bone loss. Overlaid with customized porcelain, dental implants look, feel and function just like natural teeth.
"Many patients come in who are embarrassed or ashamed of their smile, and it's those people I want to help. Nothing is more enjoyable than seeing their face light up when they take a look at that new smile. They no longer have to feel self conscious when they smile," said Russo, who has been a family dentist in Raleigh since 2005.
To learn more about dental implants or to schedule your free consultation with Dr. Russo, visit the Leesville Dental Care website at leesvilledentalcare.com or call 919-890-5147. Leesville Dental Care offers comprehensive dental services in a state-of the-art facility with advanced technologies for all your dental needs. New patients receive free exam and x-rays with their first cleaning.
About Dr. Russo
Dr. Russo, owner of Leesville Dental Care in Raleigh North Carolina, completed a post-graduate hospital dentistry residency at the prestigious Hartford Hospital, Connecticut's Level 4 Trauma Center. He also completed rotating assignments in Augusta, Main where he had the privilege to serve some of the veterans who have sacrificed for our country. Dr. Russo has fulfilled countless hours of continuing education in virtually every phase of dentistry. In addition to being a Fellow in the International Congress of Oral Implantologists, he is a member of the Academy of General Dentistry, the American Dental Association and the North Carolina Dental Society. Dr. Russo of Leesville Dental Care aims to create a patient friendly practice with top-notch staff and technology.
To learn more about the services your Raleigh dentist Justin Russo and Leesville Dental Care can provide, please visit leesvilledentalcare.com.