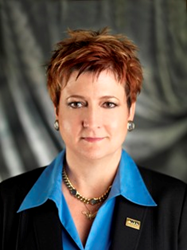 Her extensive experience not just in transportation projects but also in business development will be invaluable as we continue to expand our transportation infrastructure business in this dynamic region
Oakland, CA (PRWEB) March 25, 2016
Dina Potter, PE, has joined HNTB Corporation as vice president and Northern California deputy office leader and district sales manager. She is based in the firm's Oakland office.
Potter has more than 30 years of experience leading major transportation projects in the Bay Area and Florida. Among the numerous local projects in which she has been actively engaged are the California Road Charge Pilot Program Evaluation, San Francisco Railyard Feasibility Study, and planning and design for the Transbay Permanent Bus Storage Facility.
"Dina's vast industry knowledge and expertise are a welcome addition to our leadership team," said Darlene K. Gee, HNTB vice president and Northern California district leader. "Her extensive experience not just in transportation projects but also in business development will be invaluable as we continue to expand our transportation infrastructure business in this dynamic region."
In her new position, Potter will focus on continued growth of HNTB's Northern California presence, which includes projects being delivered by 193 professionals in the firm's Oakland, San Francisco, San Jose and Walnut Creek offices.
Before joining HNTB, Potter provided business development leadership for an engineering firm in Northern California, as well as oversight of its transportation operations in the Southwest. She also served as senior project manager for a number of high-profile highway and transit projects.
Active with Women's Transportation Seminar for over 17 years, Potter has served on the boards of WTS International, WTS Foundation and WTS San Francisco. She earned a Master of Science in civil engineering from Florida International University, and Bachelor of Science degrees in civil engineering and architectural engineering from University of Miami.
HNTB is engaged in the successful delivery of many high-profile Northern California projects including the Warm Springs BART Extension Project in Fremont, San Francisco MTA's Central Subway, the new I-580 Richmond-San Rafael Bridge managed lanes and bikeway improvements; the new Presidio Parkway in San Francisco; the new San Francisco Airport Traffic Control Tower; and the San Francisco 49ers' Levi's Stadium, which recently hosted Super Bowl 50.
About HNTB
HNTB Corporation is an employee-owned infrastructure solutions firm serving public and private owners and contractors. HNTB's work in California dates back to its founding in 1914. Today, HNTB continues to grow in size and service offerings to clients in California from eight office locations, currently employing more than 350 full-time professionals. With more than a century of service, HNTB understands the life cycle of infrastructure and addresses clients' most complex technical, financial and operational challenges. Professionals nationwide deliver a full range of infrastructure-related services, including award-winning planning, design, program management and construction management. For more information, visit http://www.hntb.com.